As a thriftaholic, I love scouring second hand stores for some of my very favorite items like vintage cookware and linens. Some treasures are completely irresistible right on the spot, but others require a bit of creativity to envision what could be. If you can learn to re-imagine thrift store finds, the DIY ideas you discover can make for some truly amazing transformations!
Idea #1: Chalkboard Paint: I've fallen in love with Rust-oleum Chalkboard Spray Paint! It's very simple to use and the coverage is much better than I expected. No matter what, we always need more shelving in our lives. I found this triple shelf in bright primary colors for only $8 at my favorite thrift store. Later, I painted it with a couple coats of chalkboard spray and it's become a great spot for books and toys that are in constant use in our home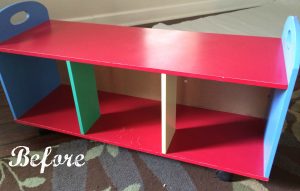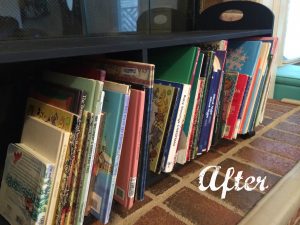 We also used Chalkboard Spray Paint to cover a $2 thrifted oil painting. Now it makes a great "inspiration board" for our kitchen! Check out this tutorial from Happy Housie for simple-as-pie DIY instructions. The sky is really the limit when it comes to chalkboard paint, so think about all the possibilities as you thrift!
Try Chalkboard Paint on: a child's desk or table, coasters, small shelves and dishes. Almost anything!
Idea #2: Spray Paint Makeovers: Until recently, I hadn't used spray paint that much, but after finding some awesome tutorials, I have gotten braver. I recommend Krylon Color Max Spray paint as an inexpensive way to paint "outside the box" and quickly update an old item. Our latest spray paint makeover was this thrifted king size headboard. I gave it a couple coats of dark purple and the results look pretty great for $10!
Check out this tutorial for spray-painting furniture like a pro!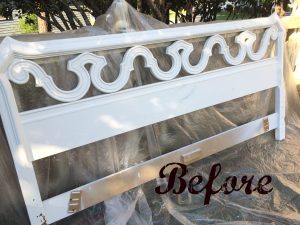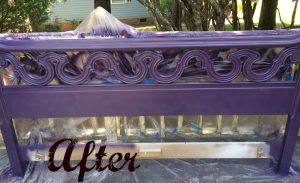 Try Spray Paint on: mismatched vases, figurines or tchotchke, small pieces of furniture or even plastic outdoor furniture!
Idea #3: A pop of color & a new use:
Thrift stores are full of utilitarian items that can be put to new use with a fresh coat of paint and a little creativity. My husband painted this rescued window (free from the side of the road) an eye-catching teal and I absolutely love the results. Something about the unexpected color choice amps up the interest level and makes a commonplace item a conversation piece. In fact, I loved the teal on the window so much that I re-purposed an old wooden spice rack ($3) to store my essential oils and painted it to match the window.
Check out this round-up of the many ways you can re-purpose old dresser drawers. I can't count the time I have seen old broken dressers by the street for trash pickup; next time I will snatch those up!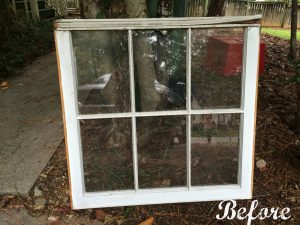 Try a Pop of Color on: old shutters or doors, ugly lamps or light fixtures, and old baskets that need a face-lift. 
What thrifted items have you transformed? What projects do you want to try?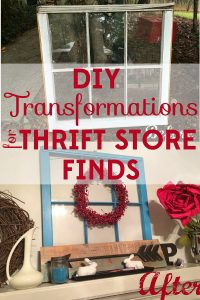 This post contains affiliate links.