I woke up on this beautiful Saturday morning, blogged for a while, did a little housework and then ran out for a quick thrift store run. Four stops later, I came home with four bags of loot. After years on the thrifting trail, I've learned some tips and tricks to help you make thrifting work for you. Here are my top FIVE treasures to never pass up when thrifting!
Vintage Corelle Dishes,Corningware & Pyrex Bakeware:
Older Corelle & Corningware is excellent quality and the vintage prints are irresistible if you love farmhouse style items. An extra bonus is that older Corningware is stovetop safe, but the newer ones are not! Here's a link to help you spot these sweet dishes!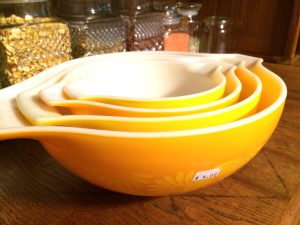 Cotton Blankets:
I found my first batch of these at an estate sale, and I've been hooked ever since. After a little online research, I have found this style of blanket described as hospital style, waffle-weave, or 100% cotton blanket. These blankets only seem to get better with age, so buying used is a great alternative to newer versions. It's hard to describe the perfection of a well-worn cotton blanket, but the comfort, weight and softness just can't be compared. My whole family loves these blankets year-round!
Heavy, high quality cookware:
Never pass up cast iron, enameled cast iron, or heavy duty stainless steel cookware. I've blogged before about the golden day when I walked through Goodwill and stumbled across a Le Creuset pot in perfect condition for $8. I don't want to brag, but it was certainly one of the highlights of my shopping career. I have since found a handful of these pots in varying conditions but all have been restored to complete usefulness with proper care. Even pots burned badly can usually be saved by boiling with a scoop of Oxyclean in the water (check out my before & after pics below). Cast Iron can be restored with these tips.
Wooden Chopping Boards, Spoons & Bowls:
Older wooden chopping boards can be restored using mineral oil and often are higher quality than current ones. To take care of your wooden chopping boards, avoid cleaning with soap and never place in the dishwasher. Check out this video for utilizing wooden kitchen items to their best potential, including an awesome recipe for cleaning wipes. While you are perusing the kitchen aisle, keep your eyes open for Cutco Knives, which are amazing quality and have a lifetime guarantee.
Copper & Brass Items:
Copper and Brass were out of style for awhile but are starting to make a big comeback. These items are gorgeous, last forever and can provide that perfect unique conversation piece in your kitchen. Rather than buying these new at William Sonoma, find them thrifted for a tiny fraction of the cost!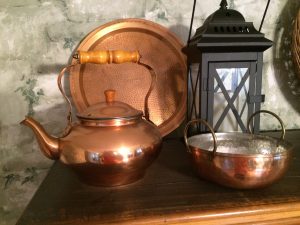 What are your must-buy items when thrifting?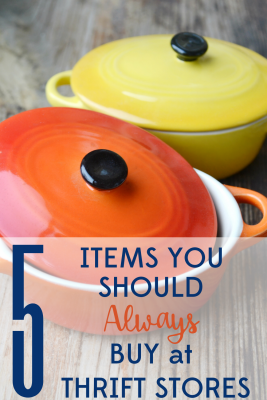 This post contains affiliate links.