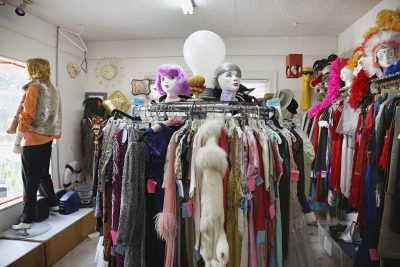 This December, I popped into the Goodwill where I noticed a rack of
ugly Christmas sweaters
for sale. For $25! I thought this was outrageous for a thrift store. Who would pay $25 for a used sweater? And they weren't even that great. As I looked around, I thought the prices seemed a bit high overall, which had me wondering:
 Are thrift stores overpriced?
For some of us, it's not just about saving money, it's about reducing our carbon footprint. I'm a big fan of recycling, and this includes buying items that others no longer have a use for, so I like to check out thrift shops when I can. Last month, at our local Goodwill, I found a few t-shirts for my daughter. They were $3-4 apiece. Meanwhile, I found new t-shirts, just her style at Walmart.com for $5 and free shipping! Says reader Mary, "I gave up on thrift stores awhile ago because I just wasn't finding any bargains. I can do better with a good sale at an already cheap store – a few months ago I got my daughter a dress for 99 cents at Old Navy!" Tip: On Mondays, Target puts out new clearance children's clothing. On Tuesdays, clearance women's clothing goes out. Sometimes the Target Cartwheel App can save you money on top of that.
When I was in Brooklyn over the holidays, my sisters and I (all bargain hunters!) popped into the local Salvation Army. I was shocked by the high prices. For instance, a boy's long sleeve shirt was $8. Twice yearly, I take part in a kids' consignment sale. There is no way I could tag clothes for these prices and have them sell! At this store, there was a winter coat my daughter wanted to buy, but I didn't want to spend $26 on a used coat that she would wear for two weeks on the East Coast, never wear in Los Angeles, and then outgrow. Luckily, that particular day we were there, the store was having a half-price sale on certain tags, so I did wind up buying the $8 shirt for my son for $4 (it was Gap and was never worn, new with the tags). But overall, I was disappointed. Tip: Find out what days at your local thrift store are "sale days" and on what items. Also, check to see if items have been misplaced. I have seen children's clothes (which are usually priced cheaper) stuck in with the adult clothing.
In Massachusetts, we stopped into Global Thrift where I found some deals that I would consider a "steal." I bought warm, lined Hollister and Abercrombie hoodies for my daughter for under $6. And some Justice fleecy pajamas pants for about $3. Tip: Some stores are cheaper than others. In general, consignment stores often have higher prices, especially if they sell designer clothing.
In my experience, garage sales are the best way to go. Mary also told me, "I find much better deals at garage sales. I think you can get some decent prices on housewares at thrift stores, but I think garage sales are still a better bet." On average, I pay $1-2 for like-new clothing for my kids at yard sales. The $3 I spent on once-only worn Abercrombie jeans for my daughter were a splurge. And I was able to buy my son a new, never-worn pair of Nikes (retail value over $125) for $10 when he suddenly outgrew his previous pair. I refuse to pay big bucks for items my kids will outgrow or suddenly deem "out of style." Tip: Check Craigslist for garage sales before driving around.
Are some thrift stores pricier than others because of where they are located? Mary says, "I have seen good deals in thrift stores where my parents live (college town in Oregon)." I have heard that the prices are higher in New York, which is not surprising.
Are thrift stores in your area overpriced?