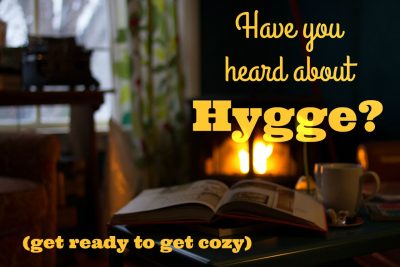 Given my recent exploits into minimalism, this New Year's Eve I put away my holiday decorations with nothing short of sheer glee. I couldn't wait to clean up and clear out the clutter and make room for a fresh start. Despite my love of January's clean bare slate, I can't help but miss the warmth and candlelight of December. In fact, there are parts of the Christmas season that I would just love to hang on to for the next few months of winter. If you feel the same way, then allow me to share with you the delightful Danish concept of Hygge.
Hygge (pronounced "who-guh") doesn't have an exact English translation and can be difficult for Americans to grasp. But the elusiveness of the concept is part of what gives hygge its charm.  Hygge is a feeling of being cozy, warm and comfortable; it describes a moment of contentment and bliss particularly at the end of a long cold winter's work day. Embracing hygge, once you get past the tricky pronunciation, is deliciously simple.
A cozy chair, soft sweater, hot cup of tea and delightful book are the perfect ingredients. Enjoying the simple things, slowing down, and choosing contentment make this lifestyle the introvert's dream. Instead of griping through the cold months, we embrace self-care, rest and warmth. When I think of hygge, I think of savoring each moment, feeling safe and at home in a particular moment or experience. I can't help but picture Laura Ingall's cold winter evenings by the fireside, with soft flannel nightgowns, the sweet song of the fiddle and the whole family gathered close together. If you achieve Hygge, it's as if you carry the very best parts of the holiday season through the rest of the cold months. Here are some ways to bring hygge to your home this winter:
Add some soft light. More Melody from the Simple Brief is a huge fan of twinkle lights (or Christmas lights) to brighten up up your interior space at bargain prices and pennies in electricity. Trendy LED lights give a more sophisticated glow and elevate the string light look from dorm room to dining room. If your style is more traditional, try a eco-friendly soy candle to light up the night! Personally, I love my Himalayan sea salt lamp for its soft cozy glow!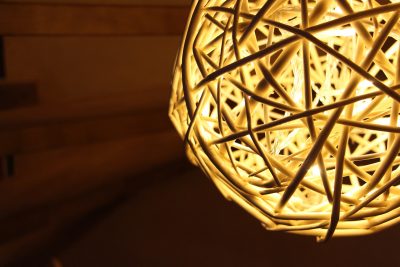 Create evening rituals: If you tend towards a rushed lifestyle by choice or necessity, there are ways of slowing down in the evening to promote a more peaceful night's sleep. This looks different for everyone but could include a cup of tea, a glass of wine, a bath or journaling to de-stress (I love my bullet journal for scrawling all my stray thoughts and to-dos). If you want a little light snack, I love using my stovetop popcorn popper! In my mind, fresh popcorn with butter is the perfect example of hygge.
Embrace the power of scent: You may already know that at Bargain Babe we love essential oils for so many tasks and occasions! Choosing a comforting soothing evening scent is a perfect way to achieve Hygge as well! Try some soft lavender in your diffuser or a few drops of calming bergamot. Here are some more suggestions for calming essential oil blends for the winter months. I own two of these bargain diffusers and they have worked great in my home!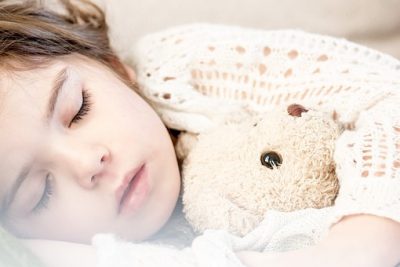 Take time for Creativity: I long for slow winter evenings with a craft project in my lap. I absolutely love crocheting as an excellent de-stress technique. If you are interested in learning, check out this very simple tutorial. (I recommend a large hook  and chunky yarn for beginners). Another great option that my girls enjoy are knitting looms, which are incredibly simple and fun to use. If handcrafts aren't your thing, consider pulling out a puzzle in the evenings. My family enjoys the Thomas Kinkaid Disney series of jigsaw puzzles. The important thing is to slow down and put your mind to a relaxing and enjoyable task!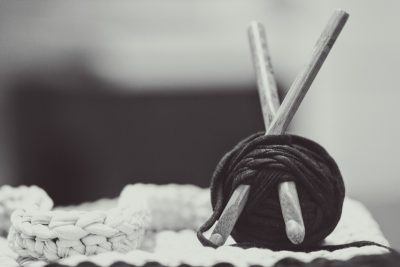 Go device free: No matter your definition of hygge, you really can't achieve a peaceful space with a smart phone in your hand. I'm challenged to put away my phone and blogging responsibilities in the evenings and take some time away from the social media and electronics world. There are so many reasons to minimize your exposure to devices, including health reasons. If you doubt you need to cut back on screen time, you might want to acknowledge how much time you truly spend by checking your usage. Many of us will be sobered by reality!
Set the mood with the right music: I have truly found that music can change the atmosphere of my home, especially with the kids. We've recently been enjoying classical music, with occasional exploration into jazz or easy listening. Spotify even has a Hygge channel that specializes in Nordic music! A little music might be just what you need to settle down in the evenings.
Get lost in a good book: Nothing can ever take the place of a good book, and dark winter evenings are a great opportunity to soak up a good story! Reading out loud to your children (even older kiddos) is such great quality time together. Check out this list of 25 great books to read aloud as a family, or just go right to one of my family's favorites: the Little House on the Prairie series, the Hobbit, or the Harry Potter series. Don't forget many fantastic literary classics are available for free digitally! Or just learn more about Hygge by reading the Cozy Life by Pia Edburg!
Have you heard about Hygge?