In the scorching summer heat, I'm always craving the perfect pair of well-worn cut-off jeans. I have always been picky about my shorts. Since thrift stores are brimming with jeans, this seemed like the right time to perfect a DIY project I'd always planned to try. So after scouring Pinterest and my local thrift stores, and experimenting with almost a dozen pairs of jeans, I have rounded up all the tips you will need to make your own cut-offs before those July 4th barbecues!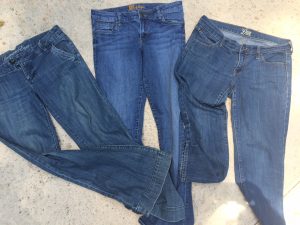 All you will need is a pair of jeans, good fabric scissors, a pair of tweezers, and a washer and dryer for most of these techniques. Whether you pull those dungarees out of your own closet or grab them at a yard sale or thrift store, here are some tips for choosing the perfect pair:
Don't overpay, even at a thrift store. Jeans are one of the items that you can ALWAYS find so it isn't worth much investment. This week my sister and I visited a Goodwill Clearance Store and checked out their selection of jeans for only 75 cents a pair! (Awesome selection of brands and sizes also. I found Citizens of Humanity, Kut from the Kloth, NYDJ, Calvin Klein, Ann Taylor, White House Black Market and many more!)
Choose the right style: High-waisted is IN for shorts right now. Short shorts will be more flattering if the waist is cut high. On the other hand, mid-rise styles will work great transformed into bermuda shorts! (If you are super skinny, low-rise jeans may work for you, but I couldn't personally test this theory. So my advice is stick with high-waisted ones.)
Skip the Stretch: As a mom of three who loves her salted caramel cappuccinos, I'm a huge fan of stretchy jeans. I love how they smooth over the love handles and slim down my waist. Just take my advice: do not use stretchy jeans for shorts! Instead, choose a classic weight denim. When I tried to cut off stretchy jeans (because I ignored the warnings), the seams came loose and unraveled, making them useless.
When in doubt, go long: No matter what, shorts always end up shorter than you think they will be, so err on the side of long. You can always cut off more length, but adding back is significantly more complicated, so take your time and cut conservatively!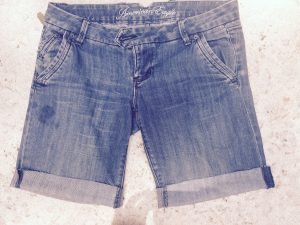 Now, on to the awesome tutorials!
Easy Distressed Technique: LaurDIY shows the fastest way to distress jeans using scissors and tweezers and the results truly look like naturally frayed shorts!
Cutting Made Simple: SimpleDIYs shares a clear video of how to use chalk to get the neatest cut at the perfect angle. 
Girly Variations: Here is an adorable twist on the cut-off from SincerelyAngels. My girls would love this one.
For the Guys: Here's a video showing some tips for cutting off men's jeans from JairWoo.
I might have gotten a little carried away and made a TON of jean shorts and I love how they turned out (other than the stretch-jean fail). There is something quite gratifying about chopping up a 75 cent pair of jeans into the perfect item for your summer wardrobe. Have you tried DIY denim cut-offs?