If you didn't hear the internet buzzing about Starbucks' limited edition Unicorn Frappachino….well, I don't know where you have been this past week. Maybe somewhere where folks have more important things to do than debate franchised media gimmicks among total strangers?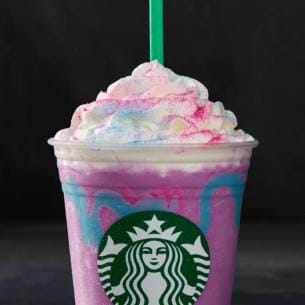 Although I can understand the appeal of the pink and blue bright color-changing drink (at least for preteen girls) the consensus seems that the drink was almost universally despised by customers, baristas, and even the My Little Pony fans who flocked to counters between Tuesday and Sunday to Instagram their colorful cups of flavor-morphing, chemical-laden drinks that clock in at a whopping 59 grams of sugar! For better or worse, the beverage has been retired from coffee counters across the country; but I couldn't help thinking my three children would have enjoyed the experience.
Then I remembered that I have the power of a million rainbows in my own kitchen. That's right, I'm the proud owner of a Vitamix blender. And with that realization, the real magic began.
If you don't own a Vitamix blender, you don't own a blender at all. And I'm not getting paid to say that. I truly love my Vitamix and have the background of ex-smoothie barista at a popular fruit drink chain to lend credence to my adoration. It's definitely one of my most used appliances and it has truly stood up to rigorous abuse, from accidentally blending plastic to purposely pulverizing chia seeds. So I had perfect confidence that I could create a Uni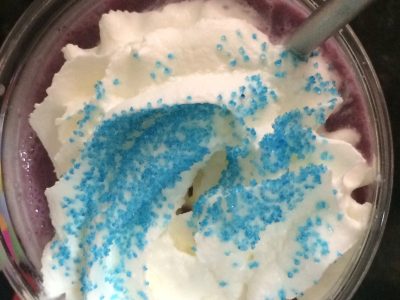 corn beverage at home that was healthier, cheaper and way more delicious than the Starbucks versions exploding all over the internet. You can do it too!
There are lots of great tips online for making the perfect fruit smoothie, but I will just give you my general recipes. For this layered smoothie I made one large purple smoothie and one large pink smoothie, layered them together in the cups and topped with whipped cream and decorative blue sugar. They turned out gorgeous and the kids loved them! (You can, of course, make this in any blender you already have.)
Purple Smoothie:
2 bananas
1/3 cup vanilla yogurt
1/3 cup blueberries
1/2 cup strawberries
about 20 ice cubes
2 tbls turbinado
3/4 cup almond milk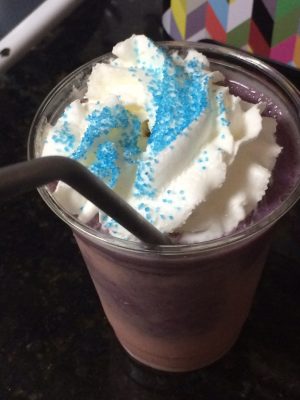 Pink Smoothie
2 bananas
1 cup strawberries
about 20 ice cubes
2 tbls turbinado
3/4 cup almond milk
My "pro" tips when making smoothies in the Vitamix are to always add the bananas first and be ready to use the tamper to push the ice down to get the perfect consistency. Also, turbinado rather than granulated sugar really does seem to give the smoothie the best creamy texture!
The Unicorn Frappuchino from Starbucks may be color-changing and flavor-morphing, but I am almost positive this smoothie will taste better. And the flavors and colors will change when you stir them together, so what do you have to lose? Order that Vitamix and get blending!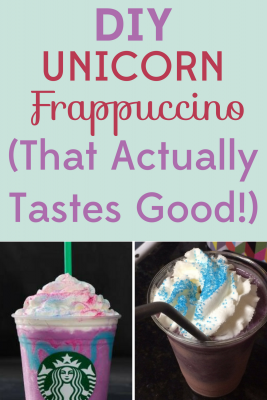 This post contains affiliate links.