If you aren't familiar with it, the Instant Pot is an electric pressure cooker, slow cooker, rice cooker/porridge maker, sauté/browning pan, steamer, yogurt maker and stockpot warmer, all wrapped into one. Pressure cooking has been the preferred coo
king method in many kitchens for years, but the Instant Pot takes pressure cooking to a new level. It's a huge improvement from traditional stovetop models that have to be closely monitored and can pose safety risks. Now pressure cooking is simple and safe!
How the Instant Pot Makes Cooking Fun Again

I had never used a pressure cooker of any kind, but the Instant Pot truly takes the "pressure" off of the cook (see what I did there?) The removable inner pot is easy-to-clean stainless steel and is currently available in five quart, six quart, and eight quart sizes. There is even a Bluetooth model for the technophiles among us! (I'm amazed but intimidated by the idea of cooking with Bluetooth; please let me know if you have tried this model.)
I love how the Instant Pot has transformed my cooking habits since I first ordered it last summer. I am always busy with homeschooling, working, writing, and trying to keep the home running semi-efficiently (survival mode). Often times, meal planning for me means trying to remember if there are de-frostable chicken nuggets and frozen veggies in the freezer as I am driving home at 5:30 PM. The Instant Pot has been an amazing asset to my kitchen arsenal and made me feel so much better about how I am feeding my family. Best of all, it has made cooking fun for me again! Here are 10 more reasons you should invest in the Instant Pot: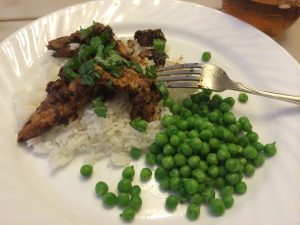 Streamline your appliance collection. This product takes the place of a rice cooker, a slow cooker, a pressure cooker, a yogurt maker, and a veggie steamer. That's a lot of space you can free up in your cabinets!
Speed up your meals. Poor planning (or no planning) doesn't have to mean fast food any more. You can cook frozen chicken breasts in about twenty minutes!
No more stove-monitoring. Some of the dishes you might typically stir on the stove-top can be "set and forget" recipes with the Instant Pot. I make oatmeal while I am getting dressed with no risk of boil-over.
Automatic keep-warm function. My old slow cooker did not have this feature, and I was constantly over-cooking meals. Now I can set the time and know the dish will stay warm until serving!
Soup's on! Soups and bone broth can be made so much more quickly than simmering on the stove all day. Soup is healthy and inexpensive and now it is quick also.
Whole Ingredients gain Instant Appeal. Now that I have the Instant Pot, I am using more veggies and herbs in my cooking. It's easy to use up ingredients at the last minute with almost no planning (like my Loaded Potato Soup, chock-full of veggies)!
Simplify the cooking process. This week alone I have accidentally 1) Made coffee without water and 2) made deviled eggs, forgetting one out of the three ingredients. With a severe case of fuzzy mommy brain, I can still successfully use the Instant Pot because the process is so very simple! Simple can be a life-saver.
Quick clean-up. I used to cook up my meat and onions in a frying pan then transfer to a Dutch Oven or slow cooker for many recipes. With the saute function on the Instant Pot, I am able to use and clean only ONE dish in the cooking process. Hallelujah!
Money-saving success. From reducing last-minute fast food-runs to helping me use up expiring produce, there is no doubt I have saved cash with this investment. Dry beans can be made without soaking and a gallon of organic yogurt can be made for the price of milk and fruit! Those two recipes alone can save my family a boatload!
Stress Relief. Feeding a family can sometimes feel like a burden, but the Instant Pot has truly reduced my anxiety in the kitchen. I can't recommend it highly enough!