When I am too tired to cook, or my meal plan has failed, or I realize I am missing a crucial ingredient for dinner, I turn to one magical ingredient that is always in my pantry: beans.
(This post was sponsored by S&W Beans as part of an Influencer Activation for Influence Central and all opinions expressed in my post are my own.)
Beans are the unsung heroes of a parent's kitchen. They are delicious, versatile, and powerhouses of nutrition. You can mash them up for babies, move on to whole beans as a finger food, or even bake them into a cake! Best of all, you can make a meal out of beans with almost no effort at all.
Like many people these days, I am trying to feed my family less meat – for health, environmental, and economic reasons. I have found that beans are one of the easiest ways to make my little carnivores forget that they're eating a vegetarian meal. Beans are high in fiber and protein, which means they keep bellies full, and they are adaptable to all kinds of different recipes.
I like to cook dried beans from scratch (especially now that I have my beloved Instant Pot), but that requires time and planning, both of which can be in short supply in my life! So I regularly turn to canned beans for quick and easy meals (bonus: less clean up!).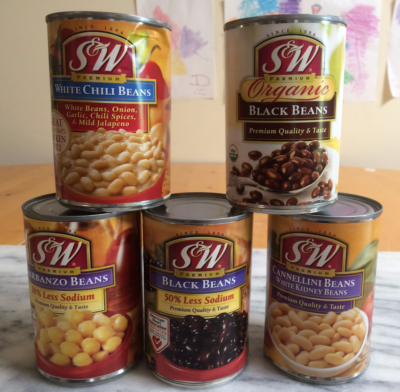 My favorite brand of beans by far is S&W. They have the highest standards in the industry and have been delivering premium quality for over 120 years. Their beans always look good – you don't get any of those weird mushy batches that you sometimes get with other brands. And they've been coming out with some specialty products, such as lower sodium varieties and even organic options. My daughter could live on their chili beans, which are seasoned with onion, garlic, peppers, and spices. I heat these up with brown rice and pop them in a thermos for her school lunches.
I use S&W black beans to make one of the simplest, fastest meals imaginable: a black bean soup that is delicious, filling, and ridiculously cheap. It's so easy that it's barely worth writing a recipe for it:
One can black beans, drained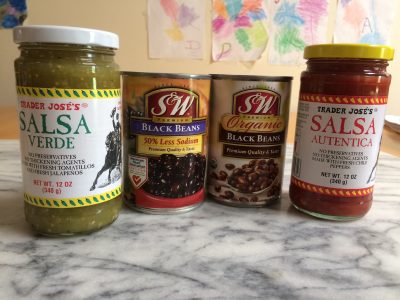 1/2 cup salsa (I like to use green, but red works as well)
1/2 cup chicken broth
Salt to taste (this will depend largely on your salsa and chicken broth)
Heat the ingredients together in a saucepan. Take a stick blender and blitz for a few seconds, or take about a half cup of soup and toss in the blender until smooth. Return the blended mixture to the soup. (This makes great baby food if you blend the whole thing; just make sure the salsa isn't too hot!)
You can top this with more salsa (I like to use a pico de gallo for a fresh flavor), a dollop of sour cream or Greek yogurt, cilantro, even slivered almonds. It's endlessly versatile and there's really no way to screw it up. This recipe makes 1-2 servings and it doubles easily.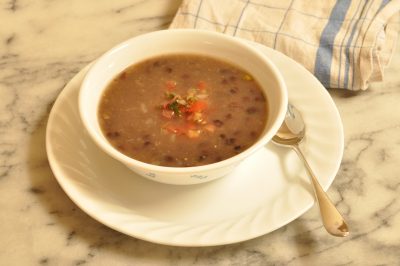 How do you cook with beans? Hit me with your favorite recipes!