Mealtime is never not a challenge when it comes to cooking for a busy family. Being ultimately responsible for three meals a day 365 days a year gets old really fast. So, when I feel like I've served spaghetti one too many times or when even the old favorites don't impress the kids any longer, I like to shake things up with something new. January is a great time to experiment with new recipes and dishes the family has never tried. It's also a great time to spend more toasty evenings at home (remember, snuggling up at home isn't deprivation, it's Hygge) and spend less money eating out. A fun surprise for your family is to recreate a meal from a favorite restaurant! So without further ado, here are some fantastic copy-cat recipes that will make you feel like you are sitting at your favorite booth, with no tipping required.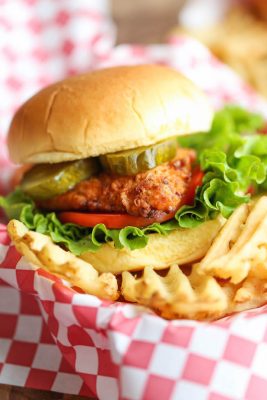 Eat more Chicken: This first recipe is one I have made a couple times and has been greeted with great enthusiasm. It turns out the secret to Chick-fil-A sandwiches is a marinade of pickle juice and a dash of powdered sugar in the breading! Here's a recipe you can serve even on Sundays; Copycat Chick-fil-A Chicken Sandwich by DamnDelicious. No matter what, we will still be loyal Chick-fil-A fans because of the fantastic customer service and kid-friendly atmosphere, but this recipe is definitely a close second.
Soup & Salad (without the wait): Pasta e Fagioli from Olive Garden is one of my husband's favorites soups but our location normally has quite a long wait. With three children, that's not always convenient so I am ready to try it on my own. There are lots of similar recipes out there, but this one has rave comments and looks like it has all the right ingredients. (Plus the site is called Top Secret Recipes, so it has to be legit, right?) Check it out here! And where would we be without Olive Garden's heaping bowls of endless salad? Make it yourself using this recipe from GoodLifeEats! Or take a tempting shortcut by ordering Olive Garden Signature Italian Salad Dressing online.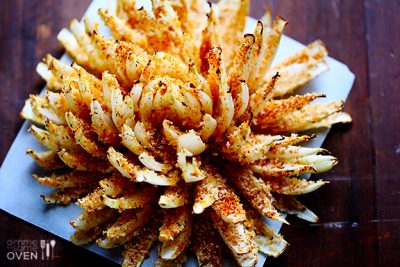 Baked Bloomin' Onion: Although this version is baked rather than fried, I had to include it because A) it looks AMAZING and B) I don't have a deep fryer. Outback Steakhouse is way too crowded for my tastes, but this recipe looks like it can totally satisfy the munchies with all the right spices, seasoning and even the secret sauce! Give it a try, compliments of GiveMeSomeOven.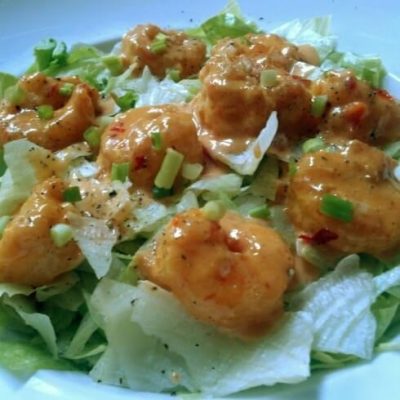 (More Bang for your Buck) Shrimp: My girlfriends and I love to meet at Bonefish Grill. They have a lot of enticing items on the menu but somehow we almost always order Bang Bang Shrimp all around. It's just so spicy, sweet and delicious! (If you aren't familiar with this dish, check your local restaurant; some locations have deals on this popular appetizer one night a week). If you are ready to brave the DIY version, click here for CDKitchen's quick and tasty version or modify it as directed for a lower calorie alternative.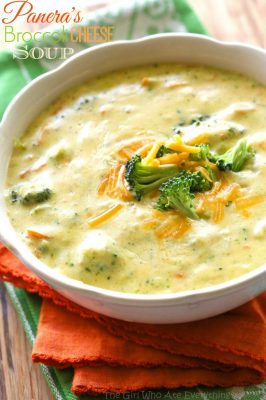 Better-in-a Bread Bowl Broccolli Cheddar Soup: I love Panera's broccolli cheddar soup, but I have to confess that one bowl just never seems like enough. With this simple recipe, you can make a whole pot and share with your friends. Don't forget to hollow out a bread bowl to make it truly authentic!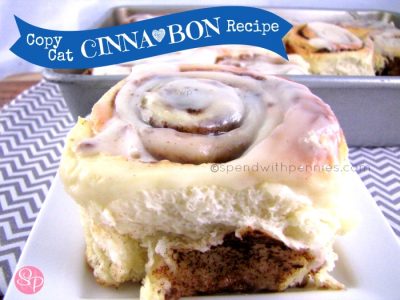 Cinnamon Rolls right from the kitchen: If you are looking for something warm, sweet and delicious while shopping at the mall, your best bet is a hot cinnamon roll from Cinnabon! If you would prefer to stear clear of the shopping but still have the treat, check out this perfectly delicious version from SpendWithPennies! Be sure to double this recipe, you will definitely want seconds.
Better than Apple Pie: My four year old is a huge fan of Cracker Barrel's fried apples and can easily devour an adult size portion on a huge stack of pancakes. I recently tried making them at home and this recipe is spot on: Cracker Barrel Fried Apples Copycat Recipe by Sweet & Simple Living. The results were absolutely delicious (and as a matter of fact, out of laziness we didn't even bother to peel our apples).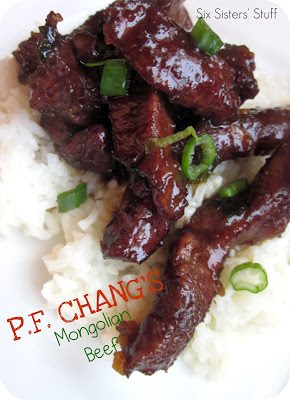 Mongolian Beef At Home: Confession: I've never been to P.F. Chang's. I know, I know, how is it possible? I don't live close to one and I just haven't had the chance! But I know well enough that Mongolian Beef from P.F. Chang's is one of their most popular dishes and apparently you can make it at home. SixSistersStuff has the scoop on this dupe!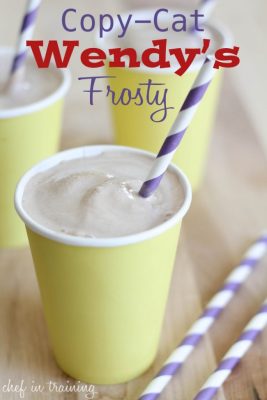 "Hand Spun" Frosty: You just can't beat a chocolate frosty from Wendy's!  Chef-in-Training has a copycat version with only three ingredients that you can whip up quicker than you can say "drive-through". Just let me know if you figure out how to replicate Wendy's almost too-salty fries to dip in that chocolate-y goodness. YUM!
Burritos in a bowl, on a budget: Chipotle has their staples totally perfected and together they can be piled up to make the mouth-watering and relatively healthy burrito bowl. SavingsLifestyle does a great job of breaking down each part of the dish with cost-comparison and detailed instructions so that you can make this meal at home for a fraction of the cost. Get the recipe here!
Believe me, this is only the tip of the iceberg when it comes to copycat recipes available online! If you have a favorite restaurant and a favorite dish, chances are the recipe is ready and waiting for you to give it a try. Let us know how it goes!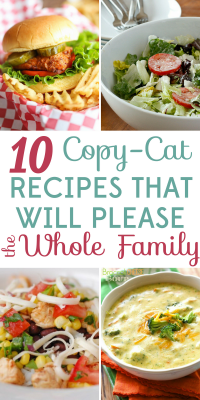 This post contains affiliate links.