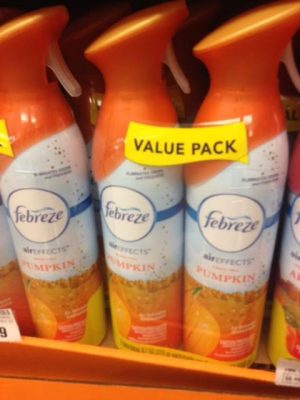 Every autumn, I look forward to stepping into Starbuck's for a pumpkin spice latte and a pumpkin scone. I love it when the house smells of pumpkin bread cooking in the oven. And every year, I splurge on my favorite pumpkin spiced soap. But there is such a thing as overkill.
Here are some pumpkin spice scented products that have just gone too far.
Pumpkin Febreze. Regular Febreze is already so gagworthy – with its overwhelming strong assault on the senses – so the thought of pumpkin scented Febreze is downright frightening.
Hello Pumpkin Renuzit. What on earth was I thinking, buying this God-awful air "freshener?" Maybe it was the name 'Hello Pumpkin' which sounded so cute and innocuous, like Hello Kitty or those yummy Hello Panda snacks. But don't be fooled – these hideous gel-blobs smell like Halloween up and died in your bathroom. Which may be why they are near impossible to find – they're not even listed on the Renuzit website. But I was (un)lucky enough to find them at Target.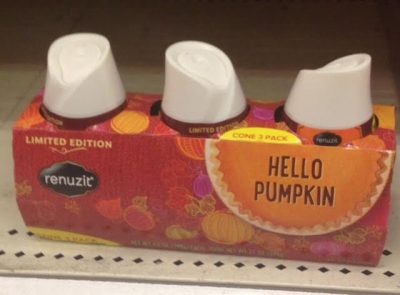 BelVita Pumpkin Spice Breakfast Biscuits. This is a product people buy largely because of its FIBER. Eat these colon-blasting biscuits and you, too can have pumpkin-spice scented um, "movements."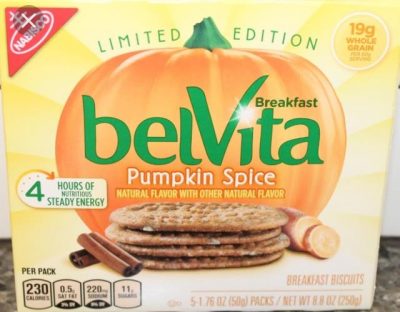 Pumpkin Pie Flavored Sparkling Water. I bought a bottle of this on a dare and what did it taste like? (Besides regret?) It tasted like carbonated pumpkin pie spice. If that's your sort of thing, drink up, my friend.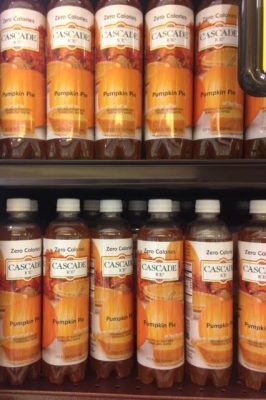 Pumpkin and Spinach Baby Food. Because apparently, baby food manufacturers think babies should suffer, too. Plain pureed pumpkin is not naturally sweet. I know, let's cut the slight bitterness by adding spinach! It will make for such a lovely color, too! (Which is likely to come back up all over that nice shirt you're wearing.) From Target.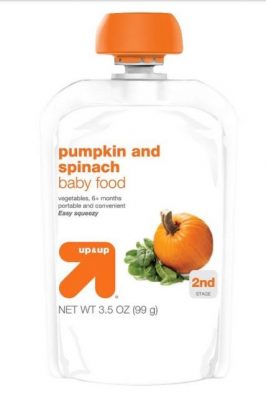 Pumpkin Spice Hostess Products. Can't you just see these guys on the 75% sale rack a couple of months from now, with no takers? Just looking at them is making my stomach churn.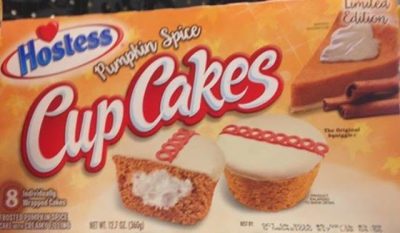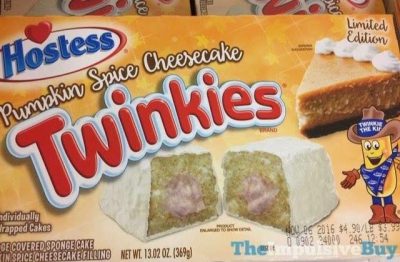 Pumpkin Spiced Pumpkin Seeds. These are about as ridiculous as you can get. So of course, I had to buy them. Well, let me tell you, they are surprisingly delicious and amazingly addictive! I am hooked. Which is not good because they are super-fattening. But at least they are somewhat healthy, right? They're seeds! They're not Hostess products!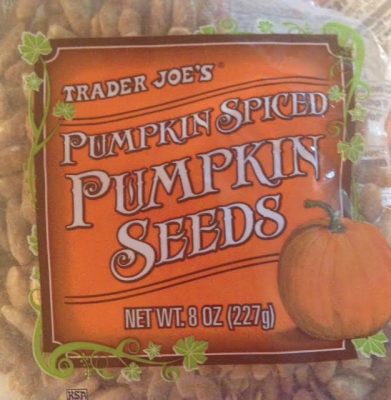 Pumpkin Spice Lip Balm. I haven't actually tried this, but I'm betting it's a step up from that stomach-churning Pumpkin Spice Flavored Chewing Gum I bought last year. I still have PSTD from that (Pumpkin Spice Stress Disorder).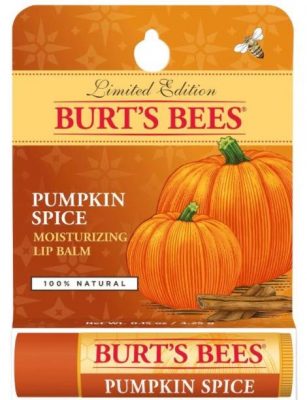 Pumpkin Spice Special K. I have always been a fan of Special K. But this just scares me.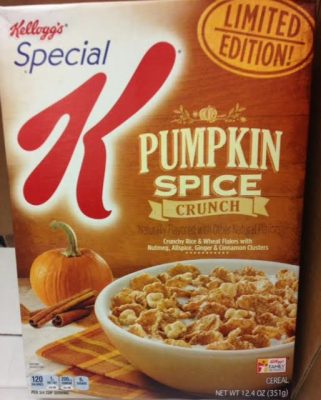 Pumpkin Spice Chips. Who are all these people who supposedly just can't live without pumpkin spice flavored chips? They must be out there, right? Why else would there be so many varieties to run… um, choose from?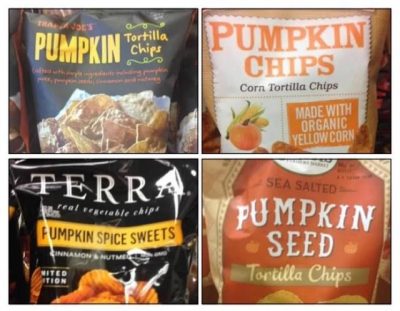 Pumpkin Spice Alcoholic Drinks. And who, on earth is thinking, "I really wish I had a pumpkin spice flavored beer right now?" Okay, I admit, I got swept up in the pumpkin spice madness and bought a bottle of the Ace Pumpkin Hard Cider… but I haven't yet dared try it.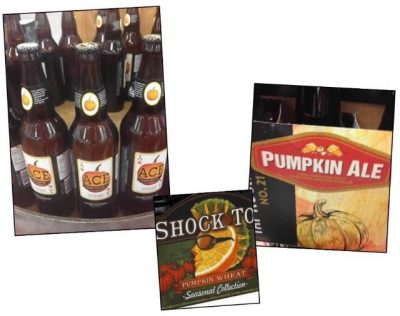 Do you think pumpkin spice has gone too far?
If you answered, "no," then take a look at this last photo.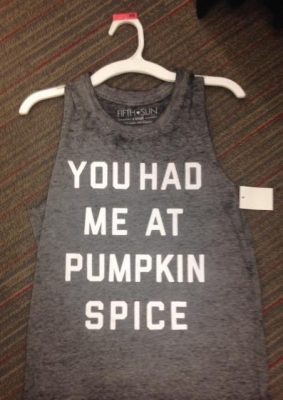 Okay then.