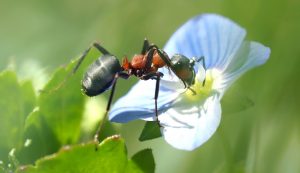 Pests in your garden will destroy your plants and your edible investment. If you're willing to make your own remedies, your plants will have a chance to thrive. Here's how to naturally combat some major offenders with supplies you have around your home.
Ants
They crawl all over your plants and transmit diseases from sick to healthy plants. It seems like they just keep on coming, but here's how to deter them from staying in your garden or coming into your home.
Ants hate cucumber peels. They dislike the bitterness of the peel so place them where they have made their trails to deter them from crawling on your plants.
Make a concoction of borax and sugar. A master gardener once told me to use a 50-50 concentration but I use more borax than sugar and it gets the job done. The goal is to have the ants bring borax back to their nests. The mixture should be placed where you see the ants or on ant trails. Borax will kill the ants.
Vinegar can be used to destroy ant trails by confusing the pests and forcing them to stay outside. Ants like to follow a trail and when there's something in their way like vinegar or cayenne pepper they will not walk through it. These methods shouldn't be costly if you already use vinegar and borax to save money in the laundry room.
Slugs
Slugs are fond of eating plants. If you notice holes in your plants' leaves, slugs and grasshoppers most likely feasted on them. To get rid of slugs:
Fill small bowls with stale beer and place them where the slugs congregate. Slugs apparently like stale beer, so they climb in to drink and drown. I don't drink, so I haven't felt compelled to buy my slugs a beer, but many gardening friends have had success using this method.
I like spreading crushed eggshells where slugs and snails are prone to travel. The eggshells, which can also be used in compost, are very nutritious for your soil, so it's a win-win situation. Slugs will not travel over the rough surface and if they do, it's easy to spot them and dispose of them.
Aphids
Those green little bugs weaken and distort plants' leaves by sucking out their juices. They love roses and vegetables in the cabbage family like broccoli and Brussels sprouts.
Ladybugs are your best friends as they will prey on aphids and white flies. I hate discovering aphid-infested plants, but purchasing ladybugs is not the most economical way of controlling them. Instead of spending money to buy ladybugs, attract the red fliers by planting plants they like. Parsley, spearmint, sweet fennel, and dill are among the plants and flowers that ladybugs can't get enough of.
Nestling mint, marigolds, garlic, and basil in your garden will also help ward off unwanted bugs. If you know of other natural methods of keeping the bad bugs away from your garden, be sure to share them with us.