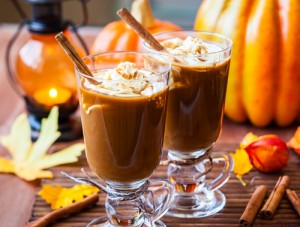 I'm shocked at this fall's prices for some of my favorite pumpkin treats – did you know Starbucks' pumpkin spice latte starts at $4.15 for a small? At Coffee Bean & Tea Leaf a small pumpkin latte runs $4.65 – $5.25 (the higher price is if you want soy). I'll admit, there was a time when I'd stop for a latte every day. Sometimes twice a day. But those days (and the salary that supported this habit) are long gone. Sadly, my pumpkin cravings are not.
Recipe for pumpkin lattes – save $788
What you need:
soy milk
instant coffee
pumpkin pie filling
whipped cream
creamer
pumpkin pie spice
At approximately $1.99 per latte you make yourself, you can have one, guilt-free, every day because each one you make saves you $2.16! If you make one at home instead of buying it, that's a savings of $788 per year!
I recommend Hungry Girl's Pumpkin Spice latte recipe (ingredients above), which will run you 97 calories – and that's including whipped cream! Save 163 calories with her recipe.
Coffee-Mate Pumpkin Spice Liquid Creamer – save $1,394.30
What you need:
Coffee-Mate Pumpkin Spice Liquid Creamer
Starbuck's coffee you brewed yourself
If you brew a cup of Starbuck's coffee at home, it'll cost you approximately 27 cents. A 16 oz. bottle of Coffee-Mate Pumpkin Spice Liquid Creamer will cost you $1.99 at Target. The sugar-free (reduced-calorie) version is also available in 32 oz. only for $3.19 at Target. Okay, so it's not the same as a PSL, but it's still pretty tasty stuff if you're willing to overlook the artificial ingredients (don't tell Food Babe)! At least it doesn't contain high fructose corn syrup. On average, adding this to your morning coffee will cost you about 5 cents a day! That's 33 cents for a cup of Starbuck's coffee with a Pumpkin Spice creamy taste – which is $3.82 cheaper than if you bought it at Starbuck's. That's a savings of $1,394.30 per year if you were to treat yourself every day!
Pumpkin bread – save $810.30
What you need:
Pumpkin bread mix
Water
Oil
2 Eggs
One slice of Starbuck's pumpkin bread will run you $2.45. If you're so inspired, you can make your own. Pillsbury's Pumpkin Quick Bread mix costs $2.49 on average. Trader Joe's costs $2.99. Even the more expensive mix at Whole Foods only cost $6.99, which is less than the price of three slices at Starbuck's.
Considering the average loaf of pumpkin bread has 12 slices, one slice of the Pillsbury's Pumpkin Bread (if you factor in the egg and other ingredients) is about 23 cents, which is $2.22 cheaper than one single slice of Starbuck's pumpkin bread. If you were to indulge in a slice every day, that would be $810.30 in savings. Save even more by making it from scratch!
Pumpkin scones
These are a weakness for me. A Starbuck's pumpkin scone costs $2.45. I have tried making them from scratch and also from a mix I bought at World Market and they were dry, crumbly and rather tasteless. Also, I was stuck with a dozen of them when I really only wanted one.
However, I recently found a recipe on Pinterest called "Better Than Starbuck's Scones" posted by Created By Diane. Because I still only want one scone, not enough for a party, I'm going to skip this recipe and splurge at Starbuck's. But if you make this recipe, I'd love to hear how it came out and how much it cost you. Sounds delish.
Pumpkin bagels with pumpkin cream cheese – save $635.10
For the spread, put in a blender:
1 8oz. package of 1/3 less fat cream cheese (not whipped)
3 TBSP brown sugar
1 TBSp agave
1/2 cup canned pumpkin (NOT pumpkin pie mix)
1 1/2 TSP pumpkin pie spice
1/2 TSP vanilla
Each fall, Manhattan Bagel offers pumpkin bagels and pumpkin cream cheese. Together, they make one very sweet and delicious treat. (Hint: have the bagel toasted.) But one pumpkin bagel with pumpkin cream cheese will cost you $2.73 and they often run out, which is nothing short of a travesty when you need your pumpkin fix.
At Target I found a bag of 6 Thomas' pumpkin bagels for $3.39. A tub of pumpkin-flavored cream cheese at Manhattan Bagel costs $3.95. I wanted reduced calorie, so I decided to make my own, which turned out to be pretty easy. The pumpkin cream cheese will come out very soft and sweet. If you prefer less sweet, leave out the agave.
What I paid: $1.49 for the cream cheese, $1.69 for a 15 oz. can of pumpkin, $2.99 for a tin of pumpkin pie spice, $3.29 for the agave, $2.74 for vanilla and $1.78 for brown sugar.
Average price per bagel with pumpkin cream cheese comes out to exactly $.99, which is $1.74 cheaper than if you bought it at Manhattan Bagel. That's a little over $635 per year. Sure you're not going to buy pumpkin bagels with pumpkin cream cheese every day of the year, but if you stop for a bagel with cream cheese, your habit could be costing you more than you realize!
Jamba Juice's Pumpkin Smash – save $465.25
In a blender, you'll need:
3 cups vanilla frozen yogurt or ice cream
3/4 cup canned pumpkin pie filling (NOT plain pumpkin!)
1/4 cup vanilla soy milk
This is another seasonal favorite of mine. One year they didn't carry it and I called and begged for the list of ingredients so I could make my own. They agreed, but wouldn't give me the exact amounts of each ingredient. A little trial and error and I was able to whip up my favorite fall shake for a fraction of the price.
At Jamba Juice, a 16oz. Pumpkin Smash costs $4.69. What I paid for ingredients: $4.49  for vanilla ice cream, $4.59 for pumpkin pie filling, $2.49 for soy milk. Make it from scratch and it'll cost you approximately $3.44 per shake. You can make it even cheaper, depending on what you pay for ice cream/frozen yogurt. (Hint: Freeze the additional pumpkin pie filling or it'll go moldy quickly.) Your savings: $1.25 per shake, which can add up if you like to splurge frequently – a daily Jamba Juice habit can cost you an additional $456.25 per year.
Inedible Pumpkin Treats worth the splurge
For many years now, I have been ordering the most delicious-smelling, calorie-free treats from an eBay seller that I have come to trust. Soapy Sweet Treats makes yummy scented soaps with names like Pumpkin Bread, Pumpkin Patch and Sweet Cinnamon Pumpkin. The more you order, the more you save.
One bar of luxury shea butter soap is $7.65 with free shipping, or buy six (you choose the scents!) for $33.99 and free shipping. Shower with these generous-sized soaps and your whole bathroom will smell like warm, delicious pumpkiny treats. (And, if you're looking ahead, they also sell Eggnog scented soap.)
What are your favorite pumpkin recipes?