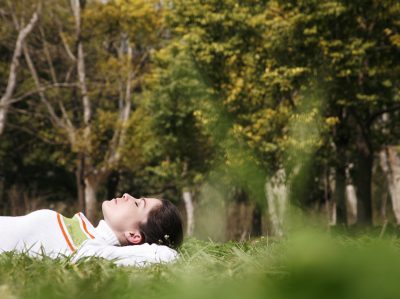 There is a lot of friction in the world right now, along with a lot of stress and worry. That's why it's important to learn to be kind to yourself in what may feel like an unkind world.
Here's how you can treat yourself better.
1. No internet an hour before bed. Social media increases stress. Instead of scanning Facebook before bed, allow yourself the time to unwind with a comedy like 'Friends.'
2. No violent movie/TV watching before bed! Last night, my husband and I were about to watch a screener for the new Scorsese film, 'Silence.' The movie opens on graphic scenes of torture. My husband and I both agreed that we didn't want to end our day peeking through our fingers and decided we'd get back to it later.
3. Find a physical practice. Exercise is good for the body – and the soul. I love to push myself in a spin class. You may enjoy pilates or yoga or a walk with a friend. Whatever works for you is great. Just get yourself moving. You will feel more empowered and strong.
4. Spend time with pets if you have them. Did you know that just stroking a cat can lower your blood pressure? Every day, I make a point of snuggling with my big orange fluff ball. When he purrs, I feel my anxiety dissipate. It's even been reported that owning a cat cuts one's stroke risk by a third! Dogs have also been known to reduce stress. According to AnimalSmart.org, "Playing with or petting an animal can increase levels of the stress-reducing hormone oxytocin and decrease production of the stress hormone cortisol."
5. Treat yourself once in awhile. Does the cost of a spa day get you tied up in knots? Check out Bargain Babe's article: "Make Your Own Spa Treatments for a Fraction of the Cost." Love Starbuck's but not the price? Try our copycat recipes you can make at home.
6. Get involved with something you are passionate about. A friend of mine just finished up a particularly soul-sucking job and needed to reconnect with what makes her happy. She started volunteering at an animal shelter on Saturday afternoons – and loves it! Immersing herself in something she enjoys has renewed her spirit and positive attitude… and helped her land a great new job.
7. Be kind to others. Send someone a nice text. Tip your hairdresser a little extra. Buy a homeless person a water or piece of fruit. I still remember a few years ago when I was struggling with two kids in a stroller and didn't have enough money for my purchase at the bakery (I didn't know they didn't take credit cards). A complete stranger handed me a twenty dollar bill and wouldn't accept change. Just thinking about this still warms my heart. A little kindness can go a long way.
How are you kind to yourself?