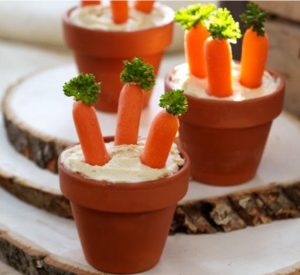 Easter is second only to Halloween in terms of candy sales. After indulging in chocolate bunnies, jelly beans and marshmallow Peeps, it's time to counteract all that sugar with some healthy snacking.
8 Easter Snacks That Aren't Candy.
1. Carrot patches. How cute are these little terra cotta cups with sprouting carrots (above)? What you need: baby carrots, hummus, parsley, small cups and terra cotta pots (check the dollar store). Idea from Momfabfun.
2. "Presents" from the Easter Bunny. This is kinda gross, right? Which means it'll be a big hit with the kids. And who doesn't like raisins?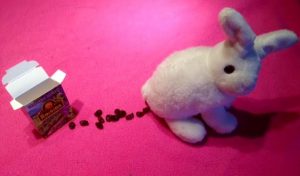 3. Bunny fresh fruit platter. This festive fruit display is a healthy alternative to all those candy-coated eggs. And best of all, no baking skills required! What you need: 1 pineapple,1 pear, 3 kiwi, 18oz. of blueberries, 6 oz. of raspberries and 10 oz. of strawberries. From WorthPinning.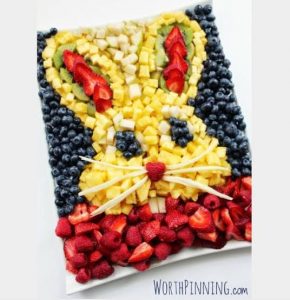 4. Cheesy Peeps. Put those bunny and chick cookie cutters to use by cutting cheese into fun Easter shapes. I purchased these official Peeps brand cookie cutters from WalMart (last year, half price after Easter, of course). Flower-shaped cookie cutters are also quite lovely.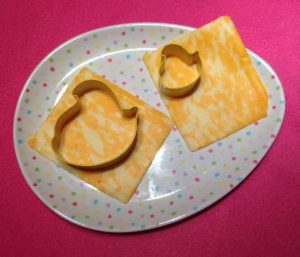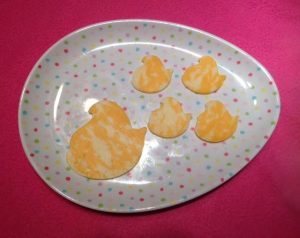 5. "Carrot" Goldfish cracker treats. You can find disposable decorating bags at WalMart or Michael's. Fill with Goldfish crackers and tie with green ribbon. Idea found at the WowStyle.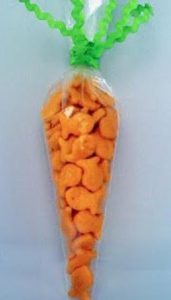 6. Bunny or chick sandwiches. Use cookie cutters to cut bread into fun Easter shapes. I filled this sandwich with egg salad.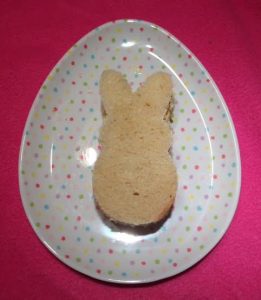 7. Bunny feet deviled eggs. These eggs are pawsitively adorable. Skip the food dye and instead opt for paprika or a splash of beet juice. Recipe and instructions at Hungry Happenings.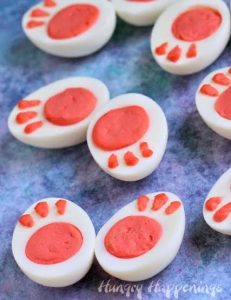 8. Carrot cake. I'd love to make things easy for you, but I must insist that you do not use Betty Crocker's Super Moist Carrot Cake Mix. Why not? Because it doesn't contain any carrots! Seriously, if you look on the front of the box, you will see that it contains "carrot flavored pieces." Eeeucchh! Instead, try out this Healthy Carrot Cake recipe from Happy Healthy Mama.
Do you have a favorite healthy Easter treat recipe?