Marshmallow Peeps are ubiquitous this time of year. But they're not just for filling Easter baskets anymore. You can craft with them, cook with them, or make your own diorama like this one featuring the GOPeep and Democratic parties debating it out (L-R: Anderbun Cooper, Bunny Sanders, Hoppity Clinton, Donald Trumpeep and Egg Cruz).
8 Creative Uses for Marshmallow Peeps.
1. Make a Diorama. Express your Peepsonality and showcase your creative talent at one of this year's PEEPS® Diorama and Art Contests.
2. Decorate Hula Bunny Peeps. This clever idea from Sugar Swings will be sure to amuse even the most stoic party-goer this Easter. Start with a square pretzel as a base, then attach Peeps bunnies with candy melt or melted chocolate. Add a grass skirt with some more green candy melt (put the wafers into a zip lock baggie, melt in the microwave, then snip a small end off and pipe on). Use brown to do a belt on top of the grass skirt. Add a "coconut top" with plain M&M's attached with more melted candy.
3. Whip Up Some Peep-za! Simply follow this recipeep from The Cooking Channel. "Peeps on a pizza, well that's just gross. But Peeps on a pizza-like dessert – that is amazing. To make a Peep-Za, you just need a cookie crust, some frosting and the contents of your Easter basket: Peeps and M&Ms or whatever candy you like best." Call us when it's ready!
4. Bring Peeps Skillet S'mores to the Party. Spread chocolate chips evenly in a skillet, pour warmed heavy cream over the chips, then assemble Peeps or Bunnies on top. Put the skillet in the oven, turn your broiler on to high and keep a close watch to make sure nothing burns. "And don't forget to stock up on graham crackers as your dippers. You wouldn't want to run out—that would really be a catastropeep." From Delish.
5. Put together a Peeps House with the Kids. We do this every year. I found a great Gingerbread Bird House at World Market on sale for $9, but if you don't have a store near you, you can find a recipeep to make and decorate a sugar cookie Easter house at Princess Pinky Girl.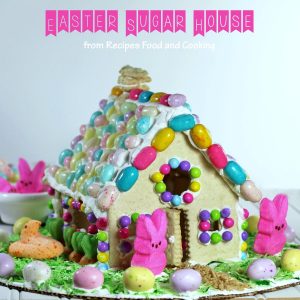 6. Make a Tasteful Peeps Candle Holder. What you need: hurricane candle holders (check the dollar store!), jellybeans to line the bottom, Peeps chicks or bunnies, a cereal bowl and a candle. Tip: To prevent the chicks or bunnies from falling down, use a cereal bowl inside the hurricane glass to push the Peeps against the glass. Idea from Upstate Ramblings.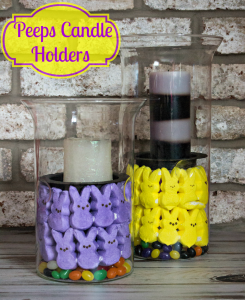 7. Bake This Orange Creamsicle Peeps Cake. It's quick, it's easy, it's Peeptastic! From Meatloaf and Melodrama.
8. Have the Kids Learn the Periodic Table of Elements. Who says Peeps can't be educational, too? From Dogluvr on Deviant Art.
What are your favorite things to do with Marshmallow Peeps?