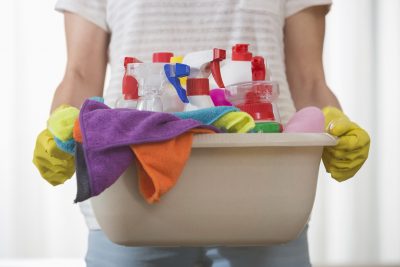 I despise cleaning. I don't think words can fully convey how much I hate to clean. I would rather get a mammogram than clean the house. I would rather listen to my kid practice violin all day long. I would rather go a on a date with Tom Cruise.
But I also don't want to live in total squalor so there's no avoiding it completely. And when I have to spend money on cleaning supplies, it's just adding insult to injury. So when I discovered cleaning products at the Dollar Tree
, I never looked back. This way I at least get the tiny thrill of a bargain while doing something that I otherwise find wholly unappealing.
My Favorite Dollar Tree Cleaning Products:
Scrub brush – I use this brush in the bathtub and on tile floors. I swear, I cannot tell any difference between the Dollar Tree version and this Oxo brand brush, which goes for $5.99.
Toothbrushes – We use electric toothbrushes and those little brush heads aren't very useful for cleaning. So I like to pick up a two-pack at the Dollar Tree, preferably medium or firm bristle since those stand up better to grout.
Microfiber Towels – I've seen these in two or three packs. To be honest, I prefer to buy these towels in large quantities from either Amazon or Costco, but if you don't want to buy in bulk the Dollar Tree is a great option.
Spray Bottles – If you make your own cleaning formulas these are essential. I have a couple that have lasted several years so they seem pretty durable. I also like these aluminum spray bottles, which are great if you're using anything with essential oils in it. (Some oils can cause plastic to degrade, so it's always best to use metal or glass containers.)
Steel Scrubbers – We have very hard water so I have to use steel wool to scrub those mineral deposits off our stainless steel sink. These work like a charm.
Microfiber Chenille Dusters – These dusters are great for cleaning blinds.
Magic Erasers – These work every bit as well as the brand name version, which is to say that they are amazing. I used them to remove some stains from my wood countertops, when absolutely nothing else had worked.
Nesting Dustpans and Brush – These are great for quickly sweeping crumbs off tables and countertops.
Bleach – I generally try to avoid using bleach, but principles go out the window whenever someone in the house has a stomach virus. Then everything in the bathroom is treated to a bleach bath. Good thing it's only a buck.
Buckets – I don't know that these are the sturdiest buckets ever, but for general household use they do just fine.
Dawn Dishwashing Liquid Soap – Dawn performs magic in this shower cleaner. If you have problems with soap scum you must try this formula. And yes, I have tried other dishwashing liquids, and none seem to have the soap scum fighting power of Dawn.
Oxygen Based Cleaner –  I mostly use this for laundry (whites, specifically). It works just like Oxiclean, as far as I can tell.
Storage Bags – Cleaning often involves some decluttering and I love these storage bags for pillows, blankets, seasonal clothing, etc . . . If you happen to see vacuum bags (these are a rare find in my Dollar Tree), snatch them up! They are so handy for storing things like bulky blankets, couch covers, etc . . .
What are your favorite Dollar Tree cleaning products?
This post contains affiliate links.