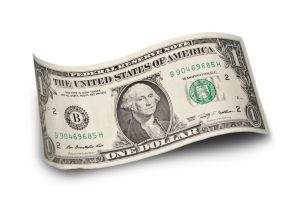 The other day, my non-frugal hubby came home with $40 of drugstore products that I could have bought for $8 at the dollar store. I smiled sweetly and made a mental note to keep these items in stock so he doesn't run out. (Smiling sweetly is my secret to a long marriage.)
Although the quality of the items sold at the dollar stores varies greatly, there are some items that are just foolish to buy at regular retail price. Thanks to readers, we have grown this list from 10 to 67 items!!!!
Here are
ten

15

28

30

37

49

67 items that I always pick up at the dollar store.
Double-sided tape – You can get 130 inches of this tape at the dollar store. This is a shorter tape than the 450 inch roll for $4.79 at Staples, but it is still 1/5 cent cheaper per inch.
Cotton swabs – A box of 170 Q-tips at CVS is $2.79. The same amount at the dollar store is… well, a dollar. It's not the Q-tips brand, but I see little difference.
Paper clips – A pack of 100 vinyl-coated colored paper clips for a dollar versus 60 of the same for $2.49 at Office Depot.
Clay flower pots – Every year I get at least a dozen of these wonderful flower pots. I like to decorate clay pots, put in a lovely plant cutting, and then give them as gifts. The same clay pot at Lowes is $3.97.
Wax paper, Parchment Paper & Tin Foil – These are hard to compare price-wise because the square footage is different in the boxes at the dollar stores than the boxes in the regular grocery stores. However, there are still cheaper per inch. Plus, I don't use these items that much, so I don't want giant rolls taking up my limited drawer space in the kitchen. I also really like the pre-cut pop-up foil sheets that are huge frustration savers.
Holiday decorations – Every month there is an aisle full of new holiday decorations. These are cheap and fun gifts for the kids or a little seasonal pick-me up for the house or office. Can't beat the price. When I am done with them, if they are still in good shape, I give them away on freecycle.
Mailing Labels – You can get a package of 10 mailing labels (the kind with "from" and "to") at the dollar store. The only other place that I have seen these are at the post office where they are horribly overpriced. Yes, I know that you can label a package in many cheaper ways, but sometimes you need and want the package to be labeled in a more professional way.
No Damage Hair Elastics – A package is $2.39 at CVS. No brainer! My kids go through these a dozen at a time. Where do they go?? I could save a lot of money finding out!
Shaving Cream – $2.59 at CVS. I also look for quality homeopathic remedies while I am in the health aisle. I once found a very expensive holistic expectorant in the dollar store and grabbed up several boxes.
Candy – If you take your own candy into the movie theater, then getting your candy at the dollar store is the way to go as you can save up to $4 per box of junior mints or M&Ms. You'll see a lot of off-brand candy, but don't be turned off. There is plenty of brand name candy as well, like Snickers, Butterfinger, and Tootsie Rolls.
Plastic utensils. Reader Dawn says: I always buy plastic utensils at a dollar store for parties. That way I'm not worried about my good stuff getting thrown away.
Pens and paper. Dawn says: Hubby is always losing pens so I buy the cheap ones!
Locking plastic baggies. Reader Linda says: I also always buy the off brand of zip lock sandwich baggies at the Dollar Tree.
Scotch tape. Linda says: But ONLY when they have Scotch: never the off brand of tape as it doesn't work as well. Carrie cautions against dollar store double sided tape: Also, I no longer purchase the double sided tape after I made a picture display for my father's wake. I used the dollar store double sided tape to put pics on poster board and it did not last more than a few hours. That was a very inconvenient time to realize their tape did not work.
Hard cover books. Linda says: I love their selection of hard cover books!
Greeting cards. David says: GREETING CARDS !!! Two for a $ at Dollar Tree….how can you go wrong??
Groceries. A number of readers raved about the grocery and food stuffs they have eaten from dollar stores. While quality varies, the list included organic soymilk, flax seeds, various bags of beans, vegi/fruit "green" bags, dry onion soup mix, canned soups.
Socks. Thanks, Julie!
Batteries. Thanks, Julie!
Coffee filters. Thanks, Julie!
Under garments. Julie says: good cotton underwear, socks. 
Shampoo and conditioner (Dollar Tree). Thanks, Jrbw!
"Silk" flowers. Thanks, Jrbw!
Gift bags. Thanks, Jrbw and Alison!
Superglue (99 Cents Only).Thanks, Jrbw!
Hydrogen peroxide (99 Cents Only). Thanks, Jrbw!
Puzzles, board books, and coloring books. Alison says: they always have all kinds of licensed characters like Disney… huge savings.
Swiffer pads. Angela says: I buy dry and wet pads for my Swiffer, and they work great!!
Trays and containers. JoAnn G says: Sterno trays and other aluminum containers. Plastic ones as well.
Cheap eyeglasses! Thanks, Kim!
Balloons Thanks Lynn! (via the BargainBabe.com Facebook page)
Book lights. Thanks, Gene!
Watch batteries. Gene says: I got 3 of those flat watch type batteries for $1.
Wise tortilla chips (Family Dollar). Angie says: Half the salt of the major brands.
Bleach. Thanks, Angie!
Benzoyl peroxide (Dollar General). Thanks, Angie!
Little plastic tube squeezers for toothpaste and ointments (Dollar Tree). Thanks, Angie!
Juice Boxes. Susannah said: It's hard to find 100% juice at most supermarkets, and when you find it, it's pricey. The local Dollar Tree sells four-packs of 100% juice boxes, some of them organic. They're smaller than standard size but perfect for my preschooler.
Toothpaste. Thanks, Betty!
Dental floss. Thanks, Betty!
Poop bags for dog walks. Thanks, Angela!
Small flashlights. Thanks, Rachel B!
Small puzzles (usually Disney). Thanks, Rachel B!
Goo Gone. Thanks, Rachel B!
Packing tape. Thanks, Rachel B!
Spray bottles. Thanks, Robbie!
Christmas presents. Rachel B says: We do a lot of Operation Christmas Child shoebox packing over November and the Dollar store is an amazing place to stretch a buck–they now accept coupons as well!
Tableware. The Gray Adder says: Dollar Tree has a good selection of tableware – bowls, plates, coffee mugs – all the same brand, all the same style (white, like you'd get in a diner), and all $1 a piece. Consider that even the good stuff will eventually break, chip, etc., you can't beat that.
Beer glasses. The Gray Adder says: Nice 12 oz or pint glasses like they have in pubs.
Chip clips. Lisa says: I also purchase what I call chip clips. They come 5 on a card and I use them to close up an bag that I opened and haven't finished the product.
Windmill cookies. Lisa says: I purchase windmill cookies for my Mom who really loves them.
Ceramic oil scent burners and the little glass jars of oil to put in them. Thanks, Lisa!
Tissues. Lisa says: Sometimes they offer nice facial tissue.
Small gifts. Katie says: I am a case manager for people with disabilities, and when someone's birthday comes up (as it always does) I buy cards or little gifts from the dollar store.
Noxzema razors. Katie says: They give you a good shave and do not nick like cheap-o Bics.
Wipes. Katie says: My favorite thing by far though are the handy wipes. I keep them in the glove compartment of my car and use them to clean up spills, wipe down my desk, wash my hands when I'm on the go, I've even used them to remove make-up in a pinch.
Microfiber cloths (Dollar Tree). Thanks, Lisa!
Dusting mitts (Dollar Tree). Lisa says: Why spend $5-$8 on one?
Cotton rounds. Lora says: I don't know if anyone has mentioned these yet but I stock up on cotton rounds at the Dollar Tree. They cost between $2 – $3 at drug stores.
Baby powder. Thanks, Susan!
Medicated powder in the yellow box. Thanks, Susan!
Toothbrushes. Catseye says: I always buy toothbrushes at Dollar Tree. Sometimes you can find a package of 2 Colgate toothbrushes. You can't beat a deal like that!
Hand sanitizer. Thanks, Catseye!
Petroleum jelly. Thanks, Catseye!
Body lotion. Catseye says: Dermasil lotion is a quality brand. The price of hand and body lotion is outrageous. Eight to ten ounces of body lotion for a dollar is fine with me!
Pregnancy tests. Crystal says: Dollar tree has them for $1 while the name brand ones anywhere else can be $10-$15! I've used them to find out I was pregnant with both of my children and I know others who have too. They're accurate and so much cheaper.
Baby wash and oil. JudyL says: At Dollar Tree I buy Angel of Mine Baby Wash and Creamy Baby Oil Lotion. They both have that mild baby oil smell. I use both products for myself — the baby wash as a bath wash and the baby oil lotion is strictly a lotion but goes on smooth, sinks right in and is absolutely not oily. So don't buy expensive, overly perfumed lotions and bath washes, you will no be disappointed with these two products.
I am not including food on this list even though I know that there are great deals on food at the dollar stores. I'm very into non-processed, non-GMO, organic food at the moment, and it is really hard to find those food items at the dollar stores, but I still always check out what they have.
Bonus item No. 1 – Flash lights. I have found great LED flash lights with batteries at the dollar store. I have seen the same light without batteries at Lowe's for over $5.
Bonus item No. 2: – Band-aids and antiseptic cream. These are so expensive at the drugstore and so cheap at the dollar store.
Note, reader Sherry warns against dollar store bandaids. She says: I've had bad luck with dollar store bandaids. They don't stick well.
What do you always buy at the dollar store?