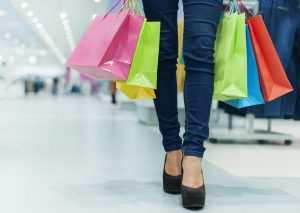 Trips to the mall are almost always fun… and almost always expensive. Even for those of us who do most of our shopping online, there are times when you have no choice but to hit the brick and mortar stores. And once you're there, the displays and sales tactics make it very difficult to resist making impulse buys. So what can you do to help mitigate the expense?
Below are some of the top tips we've gathered from experience and research which will help you save some serious cash at the mall.
Hit the Mall Before the Sales 
Retailers sell their products at such a high markup that it rarely makes sense to buy outside of sales. And while you might detest heading to the mall on big sale days, we have a secret trick for buying items during sales that will eliminate all of the hassle and leave you with pure savings.
Most stores in the mall will hold items you like for a few days. But a good number of stores (not all, but many!) will hold items you like – or at least keep a record of which items you are interested in purchasing – and then call you when there's a sale! The best opportunity for this is at bigger department stores, like Nordstrom's and Macy's, but we've tried it out at a few smaller stores as well. This means that you can go and try on what you like on an off-day at the mall, when it's less crowded and hectic, and then swing by to simply pick it up – at a big discount, of course! – when there's a big sale.
Always Look for Coupons (But Throw Away those Scissors!)
If you're going to head out shopping, it usually doesn't take more than a few minutes to Google coupons for your favorite stores. Gone are the days when you had to sift through newspaper coupons … they're all but guaranteed to be online!
And coupon aggregator websites catch almost everything. Whether you're shopping at Banana Republic Canada, Sears, or H&M, aggregators will sift not just through major discounts offered by the chain, but special "members only" email discounts, flash-sales, and other opportunities that can be easy to miss. If you forget to Google before you go, there are several couponing apps which help you find the coupon codes you need on the go. Voila! Instant savings.
Sign Up For Store Emails
Speaking of "members only" discounts, become one of those members! Yes, it's irritating to get a lot of junk mail, but these days many retailers send email alerts for flash sales which can often beat even the steepest discounts offered on major shopping holidays. If there's a store you love at the mall, and where you shop frequently or often drop a lot of money, sign up for their newsletter to receive alerts on their sales. To keep these messages from filling up your inbox, create a separate email account just for retailers.
Call the Location
Believe it or not, some retailer locations will have their own sales independent of the chain. And sometimes if you just give the actual mall location a call, they'll be more than happy to tell you about upcoming sales. Another perk of calling? You can ask if you can double-down coupons with posted sales for a bigger discount and better savings. Some stores will allow this, but others won't. Make sure you ask the name of the associate you're speaking with, in case there's any dispute once you get to check out.
Don't Be Fooled By Outlets!
Back in the early days of outlet malls, you could find some phenomenal deals. For a while, outlets were the very definition of destination shopping. These days outlet stores are no cheaper than the mainstream retailers! And 'factory' stores don't just sell reduced-priced inventory from the retailer; they often sell lower-quality items manufactured just for outlets. Make certain to compare costs before you make a purchase, and also to compare quality. It's not really 'saving money' if the item you buy breaks or tears a few weeks after purchase … and most outlet stores have very strict return policies.
How do you save when shopping at the mall?