Wonder Woman is dominating the box office and the hearts of moviegoers everywhere. If you just can't wait to see the movie (again), here are some of the cutest and coolest products you can buy or DIY to celebrate Diana of Themyscira, Daughter of Hippolyta, Queen of the Amazons, aka Wonder Woman.
Everything Wonder Woman because Wonder Woman is everything.
Ceramic Mug by Funko Pop. This 12 oz. mug is super cute and available for only $9.44 at Walmart.com. Lasso it before it's gone!
Caped Knee-High Socks. Take a walk in Wonder Woman's shoes (or socks) for $8.45. From Amazon.


Logo Tee. Show your DIY superpowers by whipping up your own Wonder Woman t-shirt. You'll find the complete tutorial on the 7 Alive blog site.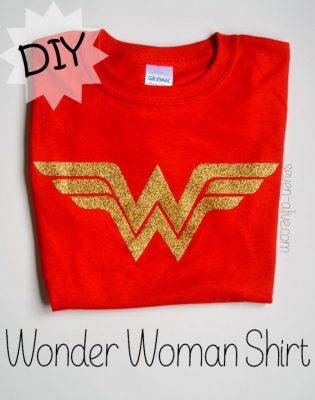 Pet Costume. You can find cheaper Wonder Woman pet costumes, but you won't find one more hysterical. We think this one from Rubies, on sale for $22.12 is worth the splurge. Especially if it is to be worn by a particularly unamused cat.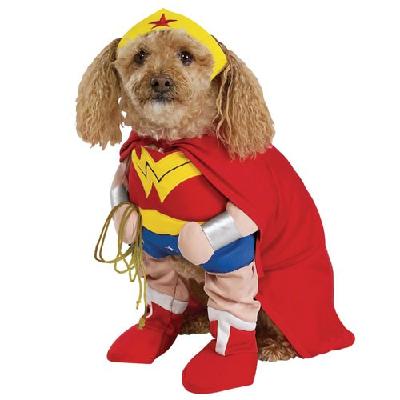 Headdress and Arm Band. You'll feel like taking on the bad guys once you don this headdress and arm band set from Amazon. $9.99.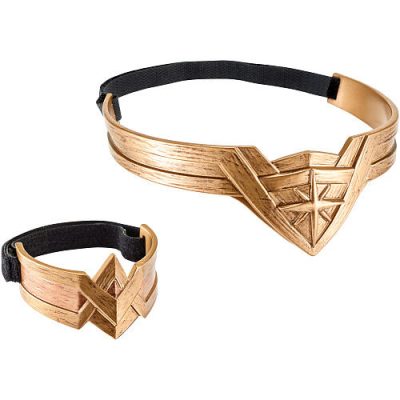 DIY Cuffs. Complete your accessorizing with these arm bands from the Sugar, Spice and Glitter blog. What you need: gold glitter duct tape, cardboard, cardboard paper tube (a paper towel tube works perfectly), red glitter, glue and scissors. Great summer project for kids!

Funko Pop Characters. You'll find these and other characters from the movie in such stores as Toys R Us and Hot Topic or online at ThinkGeek for $9.99.
DIY Craft. Got a crafty kid who's super at putting things together? How about this perler bead craft from KibbesNBits? You can find perler beads like these at Michael's or online.
Have you seen the Wonder Woman movie yet?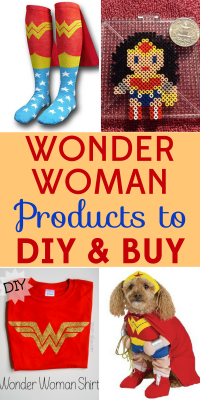 This post contains affiliate links.