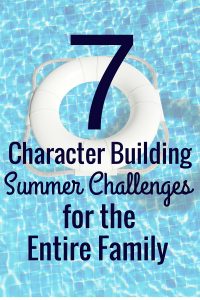 Are you looking for fresh family fun this summer? As a homeschooling mama, I feel like my kiddos often exhaust the summer activities pretty early in the season. By June our water guns are broken, the chalk is washed away and we have already made playdough, baked cookies, and visited the park approximately 5000 times. This year I really want to focus less on boredom busters and more on Character Building so I created this list of activities to challenge us.
Hoping for more than just fun in the sprinkler this summer? Check out these 7 Character Building Summer Challenges for the entire family!
Challenge #1 Summer "Bucket" List: Our first activity, to kick off our summer Challenges, was to each create a bucket list of things we wanted to do or hoped to accomplish, before we return to school in the fall.  Items on the list included watching Star Wars, swimming, visiting the American Girl Store, eating watermelon, and going to "Wild West Town" (that last item was from my 4 year old. If you know what he means, please leave a comment. We are clueless).  This was a fun way of getting an idea of what they kids hoped would happen and stirring up their interest for a few activities I had in mind.
Challenge #2 Meal Night: My twins are nine and they are really interested in cooking. This summer we have challenged them each to learn how to cook one whole meal (complete with dessert, of course) by themselves. You can't believe how excited they are to learn to do each and every step, from grocery shopping to setting the table. We chose simple meals that appeal to each of them and we plan to invite family to share in the final feast.
Challenge #3 Secret Acts of Kindness: We are all really excited about this "game". I haven't fleshed out all the details but it will involve surprising or helping our neighbors with unexpected gifts or service. My husband has already jumped into this by mowing our neighbor's yard as a surprise. Here is some great inspiration for this challenge!
Challenge #4 Creating a family purpose statement: I recently listened to a podcast called a Mom's Mission Field: Crafting a family Purpose Statement with Erica Layne. I love the idea of working as a family toward common goals using a vision statement, so this is definitely on the agenda for the summer. https://itunes.apple.com/us/podcast/a-moms-mission-field/id1040108709?mt=2
Challenge #5 Letter Basket: My kids have always enjoyed writing and sending letters but we aren't great about giving them the opportunities. This summer I plan to fill a basket with pre-addressed, stamped envelopes and some fun stationary. We have plenty of friends and family members who would love to hear from the kids and now they will be able to send out letters without any help at all. Bonus: Now I have a place to stick those special drawings and stickers that no one wants to part with. Those treasures can be sent with a kiss to Grandma or our new baby cousin.
Challenge #6 Memory work: We have memorized some bible verses or poems through the years, but the summer is a perfect opportunity to take this even further. This summer we will chose a significant verse for our family and commit it to memory as a part of Challenge #4 (Family Purpose Statement). I am hoping to wrap up these two challenges by making a piece of art for our home that we can all contribute to! Memorization makes for strong minds and calm hearts, so a perfect project to tackle with the kids!
Challenge #7 Simplifying Life: Ever since I read the book Simplicity Parenting, I have been looking for ways to simplify our home. On that note, one of the most productive things we have done in the past was "Trash 2013 for 2013". During that challenge, we worked to sell, recycle, trash or give away 2013 items in the year 2013. As we all know from  Konmari, simplifying our possessions makes all the difference in the harmony of the home, so this is really the perfect challenge to take on as a family.
What challenges do you plan to tackle this summer with your family? Let us know in the comments!