The end of summer marks the end of my garden…sigh. Nothing beats the taste of homegrown veggies, which is why I'll be canning the surplus from my garden this year. There are TONS of great recipes to try involving vegetables you can get fresh from your local farmer's market or your own garden. You can also take advantage of the delicious fresh apples available this time of year. Visit your local apple orchard, grab some fresh apples, and treat yourself to sweet apple treats all year. Yum! (And then get ready for fall gardening!)
8 Canning Recipes for Fall
Many of these recipes require a water bath canning setup. Don't have one? Two great options include this  VICTORIO VKP1130 Stainless Steel Multi-Use Canner
 on sale for $75.94 OR this Granite Ware Steel/Porcelain Water-Bath Canner with Rack for only $19.97. Nice! Now for our favorite canning recipes.
1) Big Batch Spaghetti Sauce
Right now I have TONS of tomatoes to use from my garden. That's why I love this big batch spaghetti sauce recipe. This recipe is pretty standard if you've even made pasta sauce from fresh tomatoes. It will probably take you a few hours to make this recipe BUT it will leave you with delicious homemade tomato sauce all year. Read the full recipe here.
2. Pickled Jalapeños
I buy jars and jars of pickled jalapeños because my family is obsessed with spicy food. This recipe can be made to store in the fridge for months OR can be canned and last years. This recipe also includes a cute and FREE printable. Nice! Find the full recipe here.
3. Apple Pie Filling
What I love most about this is that you can use it to throw together delicious desserts (think homemade apple pie!) in half the time. Yum! Even better, most of the ingredients for this recipe are spices you can find in your pantry. Find the full recipe here.
4. Dill Pickles
Who doesn't love dill pickles with a sandwich or on a burger!? You'll need pickling cucumber or gherkins for this recipe. If you don't have them at home you can usually find them at your local farmer's market. You'll also need pickling salt for this recipe. This recipe doesn't call for it BUT I also love to add Ball Pickle Crisp Granules to my cans because it makes sure pickles stay crisp. Here is the full recipe.
5. Zucchini Relish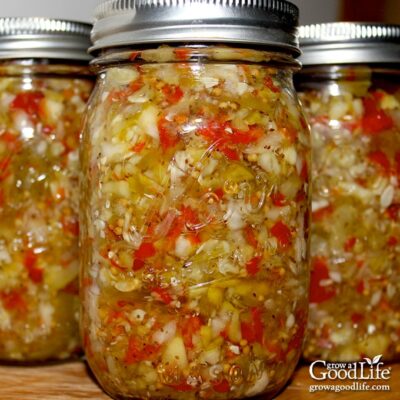 For some reason our most plentiful vegetable in our garden this year was zucchini. I've made zucchini noodles, zucchini fritters, and more AND still had leftovers. This zucchini relish recipe looks quick, delicious, and different. Find the full the recipe here.
6. Apple Peel Jelly
Make use of the apple peels from you apple pie filling with this recipe. This is a great way to make sure you're not wasting a penny…which I love. For this recipe you'll need pectin which is what makes this jelly set. Check out the full recipe.
7. Fresh Salsa
Fresh salsa is a great appetizer to serve at parties and with football season right around the corner this would be great to have on hand. This recipe is made with tomatoes, jalapeños, peppers, garlic, and fresh spices. Yum! Find the full recipe here.
8. Monkey Butter
What's Monkey Butter? It's a combination of bananas, crushed pineapple, coconut, sugar, and lemon juice. This recipe sounds delicious and is recommended for use in PB&J's, as an ice cream topping, or on toast. Yum!  You can find the full recipe here.
What's your favorite canning recipe?