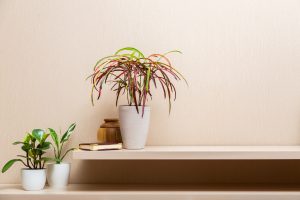 We have lived in our home for five years and we still have several bare walls. It's a little embarrassing and not at all welcoming. So I've made it a goal to hang some artwork and finally make our house feel like a home. At the same time, I have volunteered to decorate my husband's new office, which is a completely blank slate. That means I have a lot of bare walls to fill. And because I'm cheap frugal, I want to spend as little as possible. So I've been trying to think beyond standard framed prints and brainstorm some economical and appealing ways to decorate these spaces.  I have found some surprising sources of wall decor that work for even the tightest budgets and don't require a lot of DIY ability (because crafty I am not). 
Here are 10 ways to decorate your walls on a budget. 
Calendars:
These are meant to hang on the wall, of course, so it makes sense that a lot of them have very high quality images. Just cut out the artwork, pop in a frame, and you're done! A $15 calendar yields 12 prints to hang, which is a deal in itself, but if you spend a little time digging you can find some absolute steals on Amazon. Check out this Paris in Art 2019 calendar that's going for a whopping $3.16. Graphique sells a variety of beautiful wall calendars for under $8. If you prefer photography, you might like this gorgeous collection of American landscape photographs that's only $5.30. Or try New York in Photographs for $6.65 or this Paris calendar for $8. I've also seen pretty calendars at the Dollar Tree of all places, so keep your eyes out for those. 
Books:
Art books, coffee table books, even gardening books . . . as long as it's not a family heirloom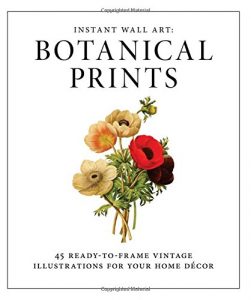 or rare edition, books are a great source of some beautiful art and photos. Be sure to check thrift shops, garage sales, and even (or especially) your home before you buy new. On the other hand, a book like this set of botanical prints makes it awfully easy for you, and gives you 45 prints for a bargain price of $17.09. (Check the reviews to see gallery walls using these prints.)
Magazines:
Along the same lines, you can find some stunning photos and illustrations in magazines these days. A publication like National Geographic is an obvious choice, but lifestyle magazines such as Martha Stewart or Real Simple often have stunning still life photos of flowers or produce.
Wrapping Paper: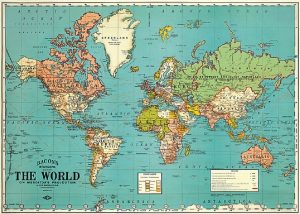 Yes, wrapping paper! Whether you buy handmade paper from Etsy or a mainstream product, a lot of  wrapping paper is more art than disposable gift wrap. Check out these Cavallini designs,which are conveniently 20″ x 28″, a standard frame size. I also love this poster kit as a framing option.
Postcards and greeting cards:
You can make a lovely gallery wall using high-quality postcards and greeting cards.  I love this bright and cheerful display at While They Sleep. (But could I get them aligned so perfectly? I am doubtful.) Etsy is a perfect source for this idea.
Fabric:
Have some beautiful fabric that you have no idea what to do with? I don't sew, so if anyone ever gave me fabric I would be facing this dilemma. You can mat and frame it, or wrap it around a canvas or even a box top. I think using embroidery hoops to feature the fabric, as seen here at Project Nursery, is especially clever and adds a sweet, homey touch. 
Shower Curtain:
I am in total awe of this shower curtain project from House of Jade. Never in a million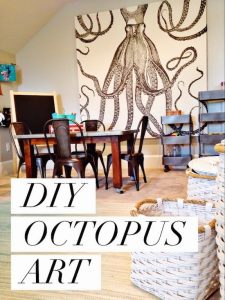 years would I have thought of doing this. It looks relatively simple if you're reasonably crafty (if you're like me, you'd need to ask for help). Here's another take on the concept at My Little Blue House, which looks like it might be even easier.
Scrapbook paper:
I'm not a scrapbooker, but I have definitely seen wall-worthy scrapbook paper. Whether you print some word art on it or just use as is, scrapbook paper can add a modern, trendy touch to your decor. Here's how Rose over at What Rose Knows made a gallery wall using scrapbook paper and simple frames.
Your own photographs, with a twist:
A set of family photos or shots from a favorite vacation are classic ways to guss up your walls. Or you can take a high-tech approach and use an app to turn your photos into watercolor art. Brittany over at Pretty Handy Girl has some great tips for using the Waterlogue app to transform your photos into works of art. I think the results are amazing. Brushstroke is another app with similar functionality. Cool Mom Tech offers a nice comparison of Brushstroke and Waterlogue. Whichever you use, this can be a great way to create some unique artwork.
Free or cheap printables:
It's not hard to find free or cheap printables online. Find your favorite design or lifestyle bloggers and chances are they'll have some printables you'd be happy to display in your home. Here's a nice curated collection at Remodelaholic to get you started. If you like botanical prints, you have several options:
On to framing . . .
When you have something ready to frame, just remember: never pay retail. You can find loads of used frames in great condition for terrific prices at thrift shops and garage sales (I have acquired a lot of frames at post-garage sale giveaways). Ignore the artwork that's already in the frame (unless you happen to love it, of course) and only pay attention to the lines and style of the frame. Do NOT pay attention to the color. If you're willing to wield a paint brush or spray bottle, you can make that frame any shade you like. Also, don't worry if the mat (if there is one) isn't the correct size. Instead, go to Michael's – armed with a coupon, of course – and get a custom mat cut for just a few dollars.
Hopefully I will be spending a lot of time at Michael's soon, as I am determined to make these walls pretty. Do you have tips for decorating your walls on a budget? Let me know in the comments!