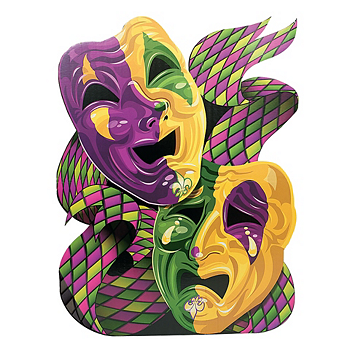 Mardi Gras, or Fat Tuesday, is a time of great celebration where people throw parades and parties. Want to celebrate in style without breaking the bank? We've got you covered.
Tips for a budget-friendly Mardi Gras party.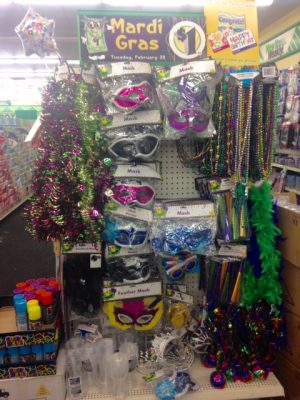 Hit your local dollar store. At my local Dollar Tree (pictured), I found assorted Mardi Gras masks, beads, crowns, feather boas, colorful hairspray and other items for only a dollar apiece – that's a far cry from what you'd pay at the party store.
Dress up. If you can't find everything you need at the dollar store, check out Oriental Trading Company. Why pay $4.99 apiece at Party City for this Mardi Gras hat, when you can get a dozen for $17.99 at Oriental Trading?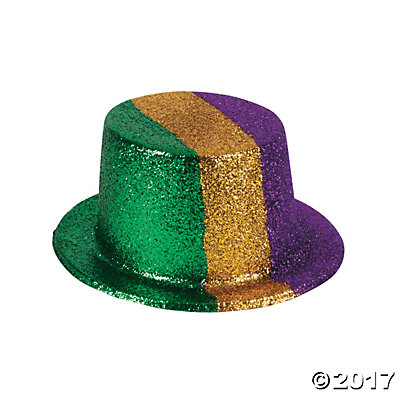 Set the scene. If you can't be in New Orleans for Mardi Gras, bring New Orleans to you with these colorful Bourbon Street backdrops from Oriental Trading Company. The backdrop featuring street revelers is only $9.99, the balcony backdrop is $15.99.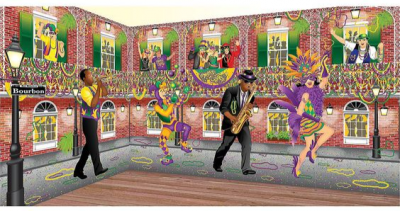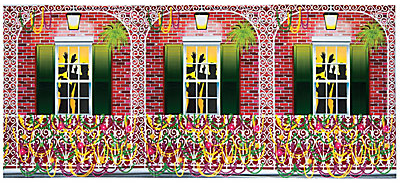 King Cakes are a vibrant part of the Mardi Gras tradition in New Orleans. The colorful cake represents the three kings who brought gifts, complete with a plastic baby baked inside. Make your own King Cake with this recipe from Barbara Bakes. Says Barbara, "My recipe uses Quick Rise yeast which eliminates the time consuming first rise in many brioche recipes. My cake is filled with a traditional cinnamon sugar filling, but would be fabulous with a cream cheese or fruit filling as well."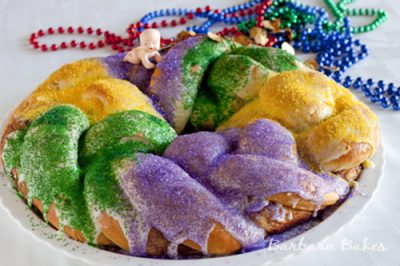 King cake cheeseball. The official colors of Mardi Gras are purple for justice, green for faith, and gold for power. This recipe, from Dip Recipe Creations calls for the following ingredients: cream cheese, butter, brown sugar, powdered sugar, cinnamon, vanilla extract, green, yellow (or gold) and purple sparkling sugar, and vanilla wafers or graham crackers. So fun and festive!
Rum punch. This is a Big Easy tradition. We found a great recipe from The Purple Pumpkin Blog. What you need: pineapple juice, orange juice, maraschino cherry juice/syrup, dark rum, orange slices, maraschino cherries and crushed ice.
Non-alcoholic Mardi Gras punch. It's always good to offer options for non-drinkers, designated drivers and kids. This recipe from Real Advice Gal, is easy to make with lemon-lime soda, grape soda (or Kool-Aid or grape juice), pineapple juice and sliced lemons.
Will you celebrate Mardi Gras this year?