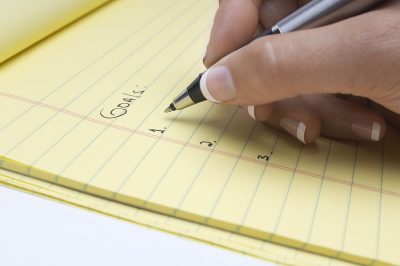 If you've resolved to master your finances in 2021, there are ways to make that process easier. Setting small, specific goals throughout the year is the most effective way to keep big financial resolutions, according to the American Psychological Association.
Here are smaller steps you can take to reach three popular money goals. Meeting these goals could impact the rest of your life, so it's well worth finding ways to persevere!
Small Steps to Help You Keep Your Big Financial Resolutions
Big goal: Improve your credit
Small steps:
Keep track of your credit history and score.

You can request a free report from each of the three credit bureaus — TransUnion, Equifax and Experian — once a year. Check the reports for errors, and challenge any you find. You can also monitor your

credit score

for free through certain credit card issuers and personal finance websites. NerdWallet offers

free credit report

information for the past two years.
Pay bills on time.

Making on-time payments are the single best way to improve your credit score. Use a physical or online calendar to track your bill due dates, or, if you're the forgetful type, set up autopay. You can still choose to pay more toward your loan principal or credit card balance, and you'll guarantee that you won't miss a payment.
Lower your credit utilization.

This is the balance you carry compared with your credit limit. Try to keep it below 30% of your overall limit.
Keep credit accounts open as long as possible,

excepting any that charge an annual fee. Having older accounts helps your score a bit; the additional credit can keep your utilization down, which helps your score a lot.
Big goal: Save more
Small steps:
Stick to a budget.

Consider the

50/30/20 budget

that allocates 50% of your after-tax dollars to necessities, 30% to wants and 20% to savings and debt repayment. Even a few hundred dollars in an emergency fund can help you avoid using a credit card or taking out a high-interest loan to pay unexpected expenses.  
Spend smarter.

Wait 72 hours rule before buying items you want, as suggested by financial expert Carl Richards. Often, the urge will pass, and you can put the money you don't spend in savings.
Save more for retirement.

Enroll in automatic contributions toward your retirement account if you have one through your employer. And if you qualify for a 401(k) match, take full advantage of it.
Big goal: Pay down debt
Small steps:
Determine the amount of debt you have.

You can't pay down your debt until you face it. Start by writing down every debt total you have — including your mortgage, car loan, student loans and credit card balances — and their interest rates. Determine how much you can afford to pay toward each per month, including interest. A nonprofit credit counselor can assess your debt and help you create a long-term debt relief plan.
Consider debt consolidation.

Debt consolidation enables you to roll your debt payments into one new one, often with a lower interest rate. If you have a good credit score and a firm plan to pay down your debt, apply for a balance transfer credit card with a 0% interest period. If you don't qualify for a lower cost card, look for a

personal loan

. A

personal loan calculator

can estimate your interest rate and payments.
If you have overwhelming debt, look into relief options:
Debt management.

A credit counseling agency will collect a single payment from you and disperse it to your creditors, usually after negotiating lower interest rates and getting fees waived. You'll typically pay an enrollment fee and a monthly fee for each credit account in the plan.  

Bankruptcy.

This process, especially Chapter 7, could be the best way to erase debt and stop collection calls, lawsuits and wage garnishments. Your credit will be damaged, but you'll be able to start fresh and rebuild.
Tackle your small steps one at a time throughout the year. By completing more manageable mini-goals, you'll find yourself keeping your resolution and setting yourself up for a more stable financial future.
Anna Helhoski is a staff writer at NerdWallet, a personal finance website. Email: anna@nerdwallet.com. Twitter: @AnnaHelhoski.