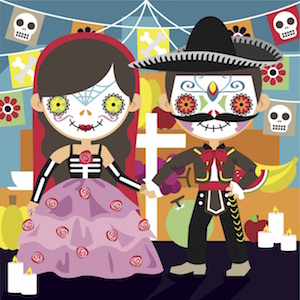 The Day of the Dead, or Dia de los Muertos honors those we have lost with festivals and parties. It is a chance to celebrate the lives of the deceased who are believed to awaken from their eternal sleep to celebrate with their loved ones.
How to throw a Dia de los Muertos party fun enough to wake the dead.
For this post, I consulted my friend Crystal, who is of Mexican heritage and has been known to throw amazing parties on a budget. Crystal told me, "On November 1st, I light a candle at night and it's supposed to welcome the deceased back home for the night."
Altars. In addition to the party, consider creating an altar. "A couple years ago I built an altar for my dad. There's a picture of him and a couple things that represent him such as music and dancing and his keyboard. It's really fun to make these altars. It gives you the opportunity to reminisce about the person who has passed away. This year we plan on  making one for my grandpa and a couple other people who have passed in our lives." An altar can be anything you want – it does not have to be religious.
Plates/Cups, etc. Forget the party store – I found everything you need at the 99 Cents Only Store. Platters, napkins, plates, cups and more. I also found similar items at Michael's for 50% off.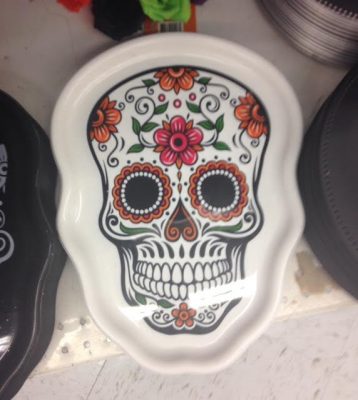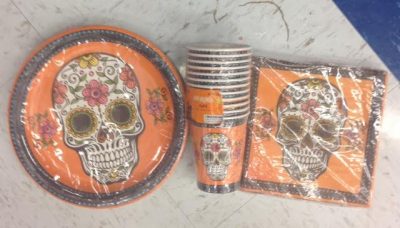 Decor. The more festive and colorful, the better! I found banners at Target from $8-10. Prefer to make your own banner (papel picado)? Check out this tutorial from Happy Thought. I also found sugar skulls at Michael's that were half off, making them $7.50 and under. There were window clings at the 99 Cents Only Store as well as felt figures and more.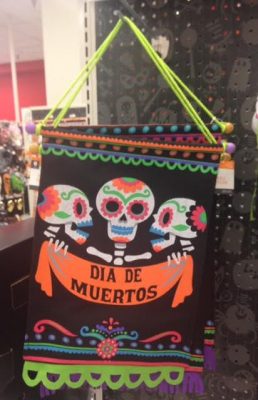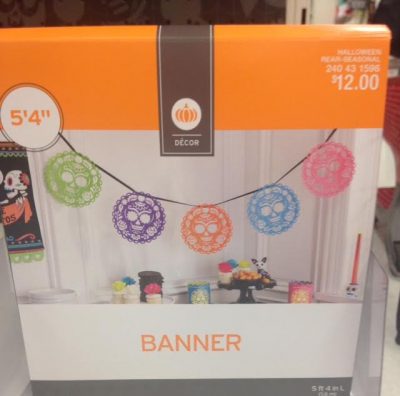 If you want to stick to online shopping, Amazon has lots of well-priced options. If you want to keep it really simple, here's a 30 piece set of decorations for $20. The pieces are made of foil so they are reusable for future parties.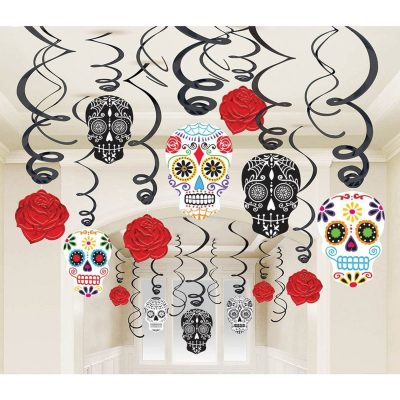 Food. In addition to traditional Mexican food, why not put together some Day of the Dead-themed food? This Sugar Skull Fruit Cookie Pizza dessert from Growing Up Bilingual is sure to brighten up any table. This easy Day of the Dead cake idea is from Party Delights. Decorate with multi-colored sweets and fruits.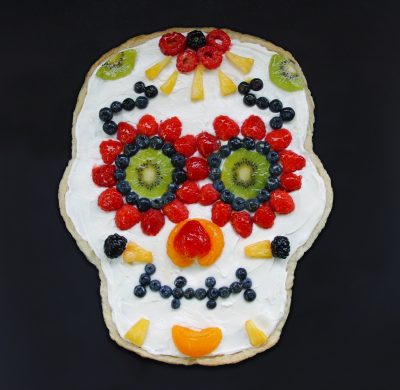 Music. What's a party without music? Pandora has a "Day of the Dead Mixtape" to liven up the party.
Location. Dia de los Muertos is celebrated at cemeteries (though some may consider it taboo) and at home.
Entertainment. This is the perfect occasion for face painting, stories and family bonding.
What are your favorite Day of the Dead traditions?