My family and I celebrate Independence Day with a huge BBQ! Every year we find new festive treats to add to our DIY 4th of July buffet. Here are a few that we'll be trying out this year.  Note: You may not want to read this if you're hungry!
8 Fun Fourth of July Recipes
1. Patriotic Ice Cubes
Don't feel like making a fancy drink? Don't worry you won't be left out of the 4th of July fun. These ice cubes are SUPER easy to make but add a ton of fun to regular drinks. These look very cool in clear beverages such as water or Sprite.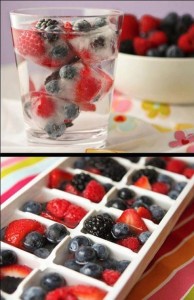 Directions:  Place blackberries, blueberries, sliced strawberries, and raspberries into an empty ice cube tray. Pour water over tops of fruit and freeze. Add ice cubes to beverages. Find the full recipe at Pip and Ebby.
2. Fourth of July Firecracker Hot Dogs
How can you have a BBQ without hot dogs. These cute star hot dogs require only three ingredients and are easy to make. Sweet!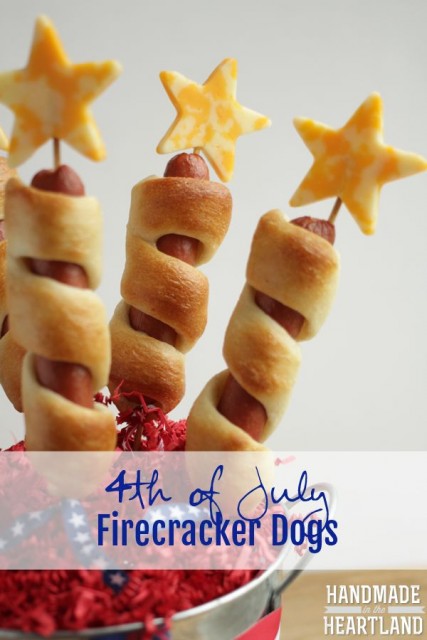 Directions: Take a wooden skewer and stick it all the way through the hot dog leaving about an inch and half exposed. Carefully wrap  hot dog with breadstick dough and bake according to breadstick directions. Next, cut stars out of colby cheese (using a star cookie cutter). Allow hot dogs to cool then add star to top of skewer. Woolah! Find the full picture recipe at Handmade in the Heartland.
3. Patriotic Berry Kabobs Dip
Fruit Kabobs are a refreshing and easy treat that kids and adult will all love!
Directions: First add 6 blueberries onto 5 skewers, follow with alternating pieces of cake and strawberry pieces. Start with cake and end with strawberries. On another 5-7 skewers alternate with just cake and strawberries. Find the full recipe here.
3. 7 Layer Flag Dip
You can't have a outdoor BBQ without 7 layer dip so why not make it festive with a flag design!? Yum!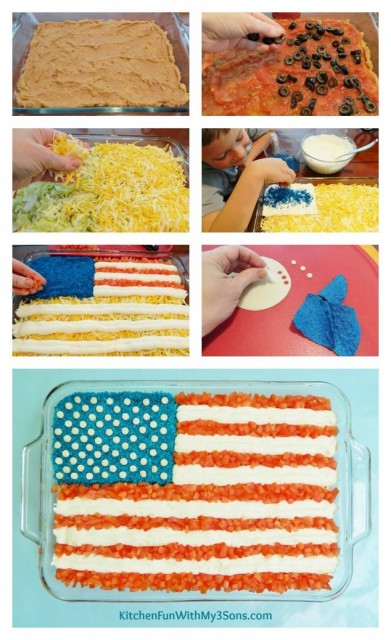 Directions: Start by making your favorite 7 layer dip (you can also use the recipe here). What makes this appetizer is how you make the final layer! To make you start by crushing Blue Corn Tortilla chips. Then, mix together one 8 oz. package or sour cream and one 8 oz. package of cream cheese. Spread a square onto the top left corner and cover this with the crushed blue chips. Next, put the remaining sour cream mixture in a piping bag and squeeze on three lines. Fill in between the lines with chopped tomatoes. Last, cut out small circles (or be fancy and cut out real stars!) from a piece of provolone cheese and add to the blue square. Find the full recipe at Kitchen Fun with My 3 Sons!
4. Mini Cherry Pies
This treat is sure to delight kids (my nephew loves everything bite sized!) and they're really easy to make. Yum!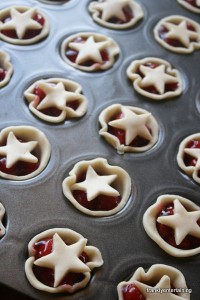 Directions: Use a 2 inch circle cutter to cut out circle out of pie dough. Place cutouts into a mini muffin tin. One circle at time. Add 2 tbs. of cherry pie filling and top with a star cutout from the pie dough. Bake at 425 degrees for 10 minutes. Find the full recipe at Frankly Entertaining.
5. Red, White, and Blue Sangria
Sangria is the perfect party drink because it's very easy to make AND everyone loves it.
Directions: Follow the recipe on the picture above. First cut pineapple into star shapes (a cookie cutter should work). Then,  combine two bottle of wine, one cup of triple sec, 1/2 cup of berry flavored vodka, 1/2 cup of fresh lemon juice, and a half cup of simple syrup in a large picture. Stir together and add fruit. Chill and then serve!
6. Personal Pizza Crisps
Who can say no to pizza!? Even better, these can be made on the grill. Yum!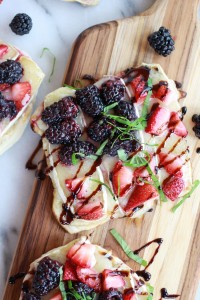 Directions: Make pizza dough 1-2 hours ahead of time (feel free to use pre-made!). Then make a glaze by simmering 1/2 cup balsamic vinegar and 3 tbs. honey until reduced by one half. Next, take 3/4 cup blackberries and about 8 chopped basil leaves into a bowl. Lightly mash blackberries. Cut dough into 12/16 squares, brush with olive oil, and grill. Top with brie then add berry mixture to left hand size. Press chopped strawberries into lines in the melted brie. Drizzle with glaze. Yum! For the full recipe visit Half Baked Harvest.
7. Fourth of July Cookie Pizza
Can't get enough pizza? Then, you'll love this easy sugar cookie pizza. (It's got fruit so it's healthy right?! lol)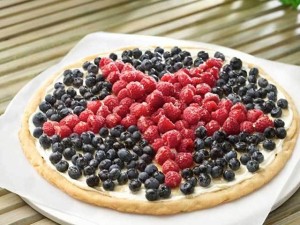 Directions: Roll out cookie dough into pizza sized giant cooke. Bake at 350 degrees for 15-20 minutes until golden brown. Allow to cool completely (around 25 minutes). While cooling make frosting. Beat one 8 oz. package of softened cream cheese, 1/4 cup powdered sugar, and 2 tsp. grated lemon peel until fluffy. Spread over cooled crust. Arrange raspberries (or any red fruit: strawberries, cherries etc) into a star shape. Place blueberries around raspberries. Serve! Find full recipe here.
What is your favorite 4th of July Recipes?