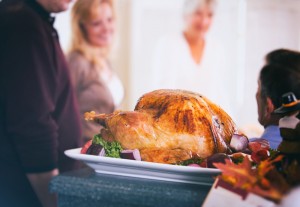 The feast is over, the guests have left… but what about all that extra food? You've got turkey and gravy and mashed potatoes and cranberries… Don't eat the same leftovers for every meal. Not when you've got these recipes to be thankful for!
Here are 10 recipes for Thanksgiving leftover food.
1. Thanksgiving Leftovers Pizza. Why go for the same turkey sandwich every year when you can have pizza? With ingredients like goat cheese and extra virgin olive oil, this sounds mighty tasty. Recipe from The Daily Meal.
2. Mashed Potato Soup. This recipe, from Rachael Ray, sounds like cozy comfort food for a chilly day.
3. Cranberry Tartlets. Pair leftover pie dough and cranberry sauce for a tasty post-turkey-sandwich dessert. From Martha Stewart.
4. Crispy Sweet Potato Cakes. Go for a complete flavor change by adding yogurt, cilantro, ginger and garam masala for a spicy side dish. From the Cooking Channel.
5. Turkey Pot Pie. Using premade piecrust dough, you can turn your leftover turkey into a delicious meal the whole family will love. From The Food Network.
6. Penne with Goat Cheese, Kale, Olives and Turkey. Martha Stewart does it again with this light yet satiating recipe with goat cheese that melts into a creamy sauce.
7. Crispy Rosemary Potato Cakes. Use leftover mashed potatoes to create these heavenly pan-fried potato cakes. From Country Living.
8. Leftover Turkey and Gravy Sliders. Get out the savory butter dinner rolls to make these tasty sliders with warm gravy. From Kraft Recipes.
9. Day-After Turkey Soup. Warm yourself up with a bowl of this highly-rated turkey soup. From The Food Network.
10. Turkey & Cilantro Coconut Taco. Skip the cranberry sauce and the gravy and go for the coconut milk. From Jennie-O.
What are your favorite Thanksgiving leftover recipes?