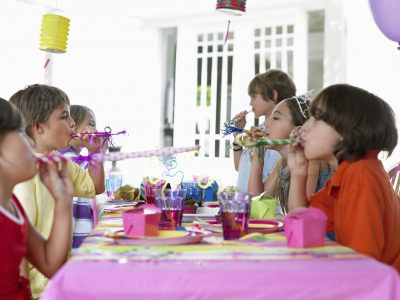 We all want to give our children a special celebration for their birthday. After all, a birthday isn't just about the child. It's a glass raised to you for surviving all the parenting challenges they've thrown at you! It's a celebration of everything you have gone through over the last year, all the homework help, carpools, bedtime stories, violin practice, board games and stomach flus in between. Your little one has grown through another year of challenges, so there is reason to party!
In our bigger is better society, I feel like children's birthday parties have gotten a little out of hand. Pricey venues, hired entertainment, elaborate themes and fondant-topped cakes that would shame my wedding cake seem to have taken the place of pin-the-tail on the donkey and popsicles in the backyard. Now, before anyone takes offense please realize that my children love these parties and appreciate every invitation. I think it's great that they get a chance to do exciting things with their friends (trampoline parks, zoo adventures, build-a-bear, lazer tag) on a special day like a birthday.
The only thing that concerns me is that simple home parties seem to be becoming a thing of that past. Whether it's because families are so busy, or overwhelmed, or intimidated, more and more parties seem to be going off-site, and there are just a few things I feel that you can't achieve away from home.
Kids love to really get into each other's worlds and learn more about each other. Home parties allow friends to check out your child's room, meet their pet, run around their yard, play with their siblings. Learning that Henry shares a room with his brother, has a see-saw in the backyard, and collects jigsaw puzzles is a way of celebrating him that just doesn't happen when fifteen second graders are running madly around Chucky-Cheese blowing through tokens like there is no tomorrow. There is something quite special about opening your home to your children's friends. On a personal note, my goal is to set a precedent with my tween girls and their friends of our home being a safe and fun place to hang out. After all, the older they get, the harder it will be to entice them to stick around the homestead.
So here's to simple and sweet home birthday parties for kids. Here are some awesome ideas to get you started!
Lego party– BuzzFeed has gathered all the best brick tips in one spot, so check it out here. I am pretty sure this party would be a blast for kids 0f many ages!
Chef Party– Kids really love cooking and with careful planning this can be a huge success. Here are some ideas to help from Today's Parent. 
Art party– If your child loves to get creative, think about an art party! Ideas are all over pinterest, so think about narrowing your search to a Chalk Party, a Pottery Party or a Paint-along. Lisa Dickinson shares some adorable ideas she used for her daughter's art party Gettin'by.
Tie-dye party– I just threw a tie-dye party for my twin girls' 10th Birthday. We used Tulip Tie Dye Kits, these awesome free printables, walmart t-shirts, this recipe for tie-dye Rice Crispy Treats, and lots of pre-teen shrieking. The party was a huge success.
Some other ideas that your child might love for their next birthday: an American Girl doll tea party, Paint-a-Pumpkin, DIY Jewelry, Classic Movie Night with Popcorn Bar, Everything Minecraft, Gardening Party, Fort-building Boot Camp, Nerf Gun Showdown.
Remember, the ideas you can find online are just suggestions! Pick one or two decorations, a really fun activity and your child's favorite cake and ice cream. Beyond that, give them time to have fun and be silly. That's really all the kids want anyway!