The kids are out of school for the summer and already that familiar chant is starting: "Mommy, I'm bored." Put together a craft kit and get the kids busy with these fun and inexpensive craft and activity ideas.
Here are 10 crafts to beat the boredom blues.
1. Suncatchers. Use colorful craft beads, spreading one layer at the bottom of the pan and bake at 400 degrees for 20-25 minutes. These craft beads were bought from Michael's with a 40% off coupon, costing under $5 total.
2. Colorful ice balls. My kids discovered this clever trick – simply fill a balloon with water, tie, and put in the freezer. Later, when the water has completely frozen, peel off the balloon and you will have a round ball of ice. For added fun, put a few drops of food coloring into the water before filling the balloon.
3. Handprint coasters. These tiles come in a variety of sizes at Home Depot. We first painted the tile with a sponge for a watercolor effect. When the paint was dry, we stuck my son's hand in some paint, then left an impression on the tile. For added protection, consider a coat of acrylic on top. Makes a very sweet Father's Day gift!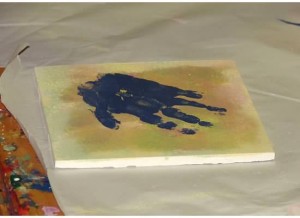 4. My Summer Vacation book. Put together a blank book of stapled pages, including "pockets" for inserting summer memories. The kids can add print outs of their summer photos, drawings and mementos from their months off of school.
5. Giant bubbles. I still remember going to the park and making gigantic bubbles with my friends. It was a blast! Here's a recipe from PBS Kids, including instructions on how to make your very own giant bubble maker.
6. Shaving cream filled balloons. How fun is this idea? Simply hold the balloon up to the nozzle and fill. The kids can make a mess outside while getting clean, not dirty, then hose off when they are done.
7. Fourth of July handprint shirts. What you need: a cheap white t-shirt and blue and red fabric paint. That's it! Check out Crafty Erin's blog for even more fun ideas.
8. Painting with ice. Fill an ice cube tray with water and add a few drops of food coloring to each slot. When the ice is partially frozen, insert toothpicks into each slot. (These will later be used as handles.) When the ice is completely frozen, pop out and paint outside on paper or the driveway.
9. Make your own foam paint. What you need: shaving cream, glue and food coloring. Find the recipe at Good Housekeeping.
10. Make your own lollipops. I used this recipe for Lucy's Lemon Lollipops from the Peanuts cookbook when I was a kid and it was so much fun! Your kids will enjoy making – and eating – these homemade lollipops.
Want more ideas?
Check out this list of kids' activities from PopSugar which includes directions for how to make homemade Photo Jars, Potato Print Pillow Shams and Edible Play Dough.
What are your favorite summertime crafts?