I have always been a sucker for water bottles, coffee cups, drinking jars and other beverage containers, so I have collected quite an assortment. Recently, I was given a monogrammed YETI Rambler mug and it is my favorite by far. It's HUGE (30 oz) and, much like the famed YETI coolers, keeps the liquid ICE cold for so long! According to YETI the cup keeps beverages as "cold as science allows" (with no sweating!) and keeps hot liquids hot for several hours. Since I have used it daily over the last few weeks, I have to agree with the hype!
The only downside to the YETI is that the price tag is pretty steep for a mug (although I'm not convinced it isn't worth it). The 30 oz Rambler retails for $39.99 (some retailers seem to price it even higher). However, I noticed that my mom has another mug from Walmart made by Ozark Trail that looked very similar to my YETI. It's priced at only $9.74! With a $30 difference in price, I decided to compare them both side by side.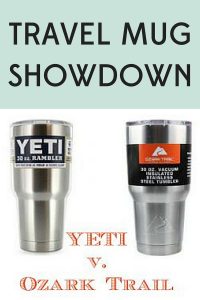 At first I planned to use a scale and a thermometer to make my test fairly scientific. Then I discovered that my kitchen scale was broken and I couldn't find my candy thermometer. (Isn't that always how it goes?) So I decided to stage a basic comparison of the two. Visually, I couldn't find any differences in the YETI and the Ozark Trail mug. They were virtually identical, aside from the logos. The weights and shapes certainly seem exactly the same. Check out these photos: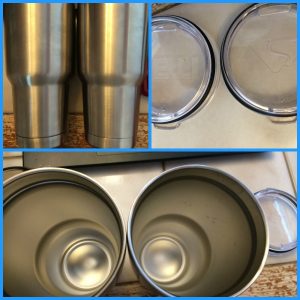 Next I filled both mugs with ice cubes to the very brim. I left them together on my kitchen counter from Friday afternoon at 4 pm until the last ice cube melted completely, which didn't happen until Sunday morning at about 10:30 AM! I took lots of photos along the way, but I won't share all of them because they were all shockingly similar. The ice seemed to melt at a precisely identical rate! I was pretty amazed!

I truly think you will be pleased with either the YETI 30 oz Rambler mug or the Ozark Trail 30 oz Tumbler. Both are very well made, heavy-duty and the insulation is fantastic! Both fit nicely into a standard cupholder (which is awesome considering the volume of these mugs!). The YETI does come with a 3 year limited warranty, which is a nice bonus. It seems the Ozark Trail tumblers have been selling out very quickly so it may be hard to snag one at Walmart! (If you can't find one or if you're not a Walmart shopper, you can get the Ozark Trail tumbler on Amazon for $24.95. Not the steal it is at Walmart, but still a significant savings over the YETI.) Either way, if you'd like to keep ice cold water for a whole day at the beach, or drink your weight in coffee before it stops steaming, you should look into these great stainless steel options! Have you put either of these mugs to the test? Let us know in the comments!