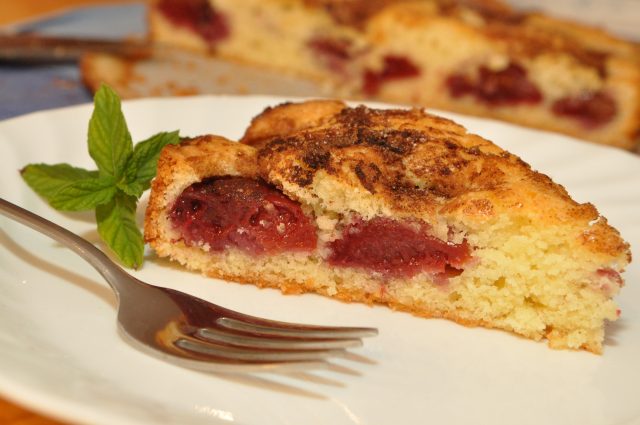 The branches of our plum tree are heavy with fruit this year, more than we can eat. It's a nice problem to have because as luck would have it, one of my all time favorite cakes is Marion Burros's Plum Torte. It is reportedly the most requested recipe from the New York Times, which seems unbelievable when you look at the ingredients. It's all very mundane: butter, flour, sugar, eggs, plums . . . not even a dash of vanilla. What on earth could make it so special?
I still don't know the answer to that question, even though I've made the cake countless times.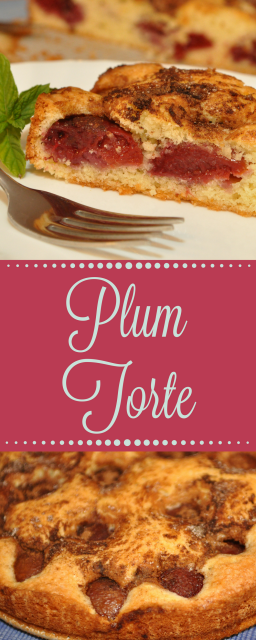 But some kind of magic happens in the oven and this simple recipe produces a cake that is indescribably delicious. It's not fancy or even particularly beautiful. But when you bite into it, the moist fruit makes the tender crumb melt in your mouth and suddenly you feel sorry for all those chumps who have to eat their plums out of hand.
Any variety of plum will do here. In fact, you can use any stone fruit: peaches, nectarines, even apricots. This cake is sweet enough to eat for dessert but not so sweet that you feel guilty if you eat it for breakfast. (Or is that just me?)
This Plum Torte also freezes beautifully. I always freeze at least two cakes because my kids, both of whom were born in the winter, often request it for their birthdays . . . despite the fact that it contains neither chocolate nor frosting. It's that good. 
Plum Torte
Ingredients
¾ cup sugar
½ cup unsalted butter
1 cup unbleached flour, sifted
1 teaspoon baking powder
Pinch of salt
2 eggs
24 halves pitted plums or your favorite stone fruit
Sugar
Lemon juice
Cinnamon
Instructions
Heat oven to 350 degrees.
Cream the sugar and butter in a bowl. Add the flour, baking powder, salt and eggs and beat well.
Spoon the batter into a spring form pan (I use a 9 inch pan).
Place the plum halves skin side up on top of the batter.
Sprinkle lightly with sugar and lemon juice.
Sprinkle with 1 teaspoon cinnamon. (If you really like cinnamon, more won't hurt.)
Bake 40-45 minutes. Remove and cool to room temperature.
Notes
If you make this with apricots, I recommend skipping the lemon juice. I find the skin of the fruit gets unpleasantly tart otherwise.

The number of plums you need depends entirely on the size of both the fruit and the pan. I recommend buying more than you think you need because you'll almost certainly want to make a second cake.