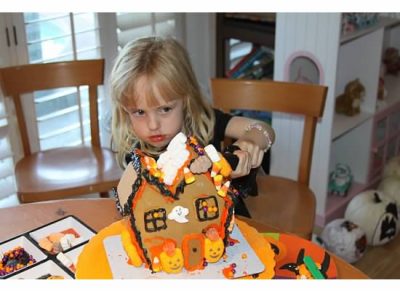 You've heard of gingerbread houses, but what about gingerbread Haunted Houses? We make them every year. They're fun for kids of all ages – and adults, too – and there are all levels of difficulty (or lack thereof).
Your guide to DIY Gingerbread Haunted Houses.
Choice #1: Start with a kit. I found various Haunted House kits, including this one from Target for $8.99. I saw similar ones at Michael's and even Trader Joe's. The prices are comparable. In my experience, if you can find one marked "already assembled" you will save yourself a lot of time and grief!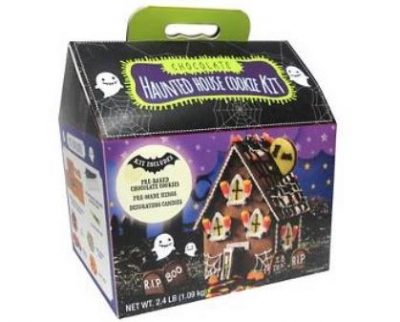 Choice #2: Make your house from scratch. Before I had kids, I labored for hours, making elaborate homemade gingerbread houses from scratch. Now that it's a family activity, I opt for the pre-made kit. But if you're up for it, here are 20 Free Gingerbread House Patterns to guide you.
Tips for assembling your house: Kits come with the "glue" (icing) to assemble the house. But if you're making your house from scratch, you'll need an icing that will harden and hold the walls and roof together. You can buy icing at your local cake store or use this recipe for Gingerbread House Icing. (Ingredients: egg whites, powdered sugar and cream of tartar.) Hint: Icing can be dyed bright orange, purple or black for Halloween. Hint: Since the house will be used for decorative purposes only (not consumption), you can even hot-glue the walls and roof into place. I have done this and it's very effective! Once the house is decorated, no one can tell. You can still use icing to decorate and cover up any visible blue.
The fun part: Decorating. Think candy corn is inedible? It doesn't need to be edible if it's used for decorating. Cookie house kits come with candy, but I always enjoy picking up extra to add to the fun. Hint: If you have more than one kid and they like to fight (like mine!) then splurge on a kit for each kid. The peace and quiet is worth the extra money.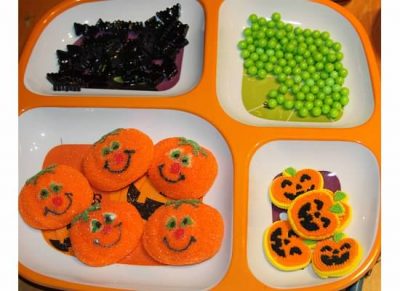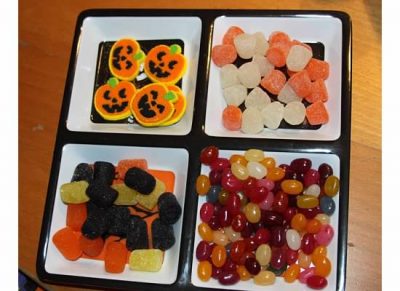 Here's how our house turned out: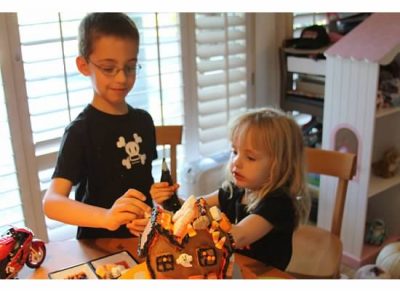 Some Haunted Houses to inspire you:
Have you ever made a Halloween Haunted Gingerbread House?