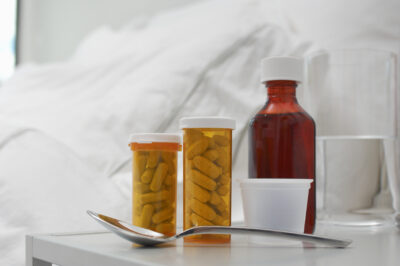 Having just gotten through a Covid infection myself, I thought I would repost this, since it seems Omicron is an inevitability for many of us. Stay safe, everyone! –Mara
I am happy to say that our family is safe and healthy after experiencing the COVID virus. I wanted to share some of our experience so that it might help others who are going through this. I would like to share the symptoms my husband experienced and the supplements that we used to support our immune systems during this time.
Disclaimer: I am not a doctor and none of this advice is meant to take the place of a doctor's recommendations or care. Please consult your physician and do your own research before making changes to your health plan. 
I think most of us have had a lot of fear associated with the COVID virus. I certainly have. Our experience has been much milder than I feared. I know that there is a large amount of variation with this virus, but I also believe that each person should be allowed to honestly share their personal experience, whether it was very severe or very mild.
Ours was somewhere in between.
As an essential worker, my husband has gone to his office as usual every day since the pandemic began. I admit that this caused me a lot of anxiety at the beginning. Almost every one we knew was working from home, but he did not have that opportunity. At first, I made him shower immediately upon walking through the door. I cleaned the doorknob after he touched it (even though I knew he had used sanitizer in the car) and worried constantly that he would bring the virus home with him, despite the precautions his company was taking. I am so glad that those early, terrifying days of the pandemic are over and that we've learned so much more about it. I'm also so very grateful for the first responders and health care workers who are tirelessly fighting this pandemic as well. They have my undying gratitude.
Two weeks ago, my husband started having ear discomfort and mild cold symptoms. In our family, we have a lot of allergies so this wasn't remotely surprising to us, nor did it cause any alarm. That day, the kids and I were out of town so we actually were not exposed to him when he was first symptomatic, which turned out to be a huge blessing. Three days later, he began feeling worse and started with a low-grade fever. He then tested positive for COVID.
We came home immediately because I wanted to be here to take care of him, but I was also nervous for all of us to be exposed. As soon as we arrived, he began isolating in the Master bedroom and I cleaned everything with Force of Nature. It was nice that we had been out of town, because I had everything already packed to set up camp for myself in the living room, so that we could truly isolate the rest of us. I immediately started him on these supplements based on my doctor's recommendations and my own research.
Tips for Getting Through a COVID Infection
Liposomal Vitamin C: Nutriflair Liposomal Vitamin C. I gave him two with every meal.
Vitamin D. We did Mary Ruth's Vitamin D3 + K2 and Energetix D3-K2 spray, rotating the two of them at the maximum dosage (15 sprays per day for Energetix or 4 sprays per day of Mary Ruth's)
Chelated Zinc: We had on hand 365 Brand Chelated Zinc, but I believe this brand would be comparable. We did 2 per day.
Histoplex: My understanding is that this supplement helps with congestion and preventing the cytokine storm. We did two per meal.
Magnesium: My husband was really tired of swallowing pills, so I gave him the Chapter One Magnesium Gummies that the kids like. For myself, I love Natural Vitality Magnesium Glycinate.
Hydration: I have never seen anyone drink so much water! My husband knew that hydration was crucial so he treated it like his job and really worked on drinking tons of water. (We love having our freshly filtered Berkey water; you can really taste the difference.) We also made sure he ate plenty of protein and cut back on dairy and sugar.
Preventatively: The kids and I also upped our doses of all of the above plus Elderberry to help our immune systems. We added a healthy splash of vinegar to all the laundry as some additional germ-killing power.
For Comfort & Convenience: We also relied on our no-contact thermometer, a good heating pad, and our stash of gatorade. We also used Rapid Relief for headache, Respiraid for Cough, Muscle Aid for aches and pains and I always use Relax for my anxiety. We always have Epsom Salt for detox baths but we didn't use it during this time frame. It was really nice to have a bed tray for serving my husband meals in bed. I was super grateful that our pantry was well stocked and we had some easy freezer meals to rely on. I was also glad we had a blow up mattress for me to sleep on, because we don't have a guest bedroom and our couch is really uncomfortable.
Our Experience: My husband had probably five days of low-grade fever, mild body aches, chills and an infrequent cough. His congestion lasted a little longer and he still has a bit of cough. He was more tired than usual but mostly rested well and had a normal appetite throughout without any digestive symptoms. One of the hardest things for him was being secluded in the master bedroom, but he was able to work from home for some of the time so he did stay busy.
I'm happy to say that the kids and I just tested negative and our two week quarantine is now complete. My husband is heading back to work today and although he is a little tired and has a smidge of a lingering cough he is almost completely back to normal and feeling good. I hope our experience encourages you and I hope you find some of my suggestions helpful. Remember, for most people COVID symptoms are mild, so try not to panic if you or a family member tests positive!
This post contains affiliate links.