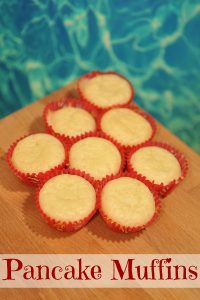 This recipe is the creation of my 10 year old budding chef. She took a pancake batter recipe and turned it into muffins. It's become a favorite breakfast for her and her little brother. These muffins are especially nice on those rushed mornings when breakfast has to be consumed on the road. (This happens more frequently than I care to admit . . . we are not morning people.) They are a little sweeter than a pancake, but not as sweet as typical muffins, which are often more like dessert than breakfast. Sometimes we split them open and put a little jam in between, but my kids like them just fine without the adornment.

Pancake Muffins
Prep time:
Cook time:
Total time:
We make these muffins dairy free, but you can always substitute melted butter and cow milk, if you prefer. The recipe usually yields about 18 standard size muffins.
Ingredients
2 cups all-purpose or white whole wheat flour
¼ cup sugar
1½ tsp baking powder
¼ tsp salt
2 eggs
2 TB oil or melted butter
2 cups almond-cashew milk (or milk of choice)
Instructions
Preheat oven to 350 degrees.
Lightly grease a muffin tin or line with paper liners.
Mix together dry ingredients.
Lightly whisk eggs.
Add oil (or butter) and milk to eggs and mix together.
Add wet ingredients to dry ingredients, and mix until just combined.
Scoop batter into muffin pan.
Bake muffins in muffin pan for 20-30 minutes (depending on the size of your muffins).