Trying to drown out the "I'm bored!" whining of your otherwise lovely children? What better way to pass school break or a snowy day than Christmas crafts? No need to spend big bucks on an overpriced craft kit – we've got activities that can be made easily with supplies you can pick up at your local dollar store, in your own backyard, or perhaps your spare closet!
Here are 8 fun Christmas Crafts your kids will love making
1. Pinecone trees.
There couldn't be anything simpler! Pinecones can be decorated with any number of things: pompoms, feathers, glitter, googly eyes, beads, pipe cleaners – you name it. Get creative! Just add glue. (Older kids can use a glue gun with supervision.) When the kids are done, you'll have adorable table decorations. Or turn them into ornaments by attaching a pipe cleaner to the top.
2. Gingerbread houses. 
You can pick these up at Target or Michael's for about $10 or less. Many years, I've bought them half price after the holidays and saved them for the next year (who cares if they're stale – no one eats them). Pick up additional festive candies of your choice for decorating. I've discovered that the pre-assembled houses are the easiest. If your house is not pre-assembled and requires "gluing" together with frosting I have a better suggestion. Hint: Put it together yourself with a glue gun. It will dry quicker so the kids can get to decorating and no one will know (again, the house is for decoration, not for eating).
3. Candy wreath.
These wreaths are pretty and easy to make. Bulk candy is cheap to buy, as well as a ribbon and floral tape from the dollar store. Use the tape to attach the candy to a coat hanger you've twisted into a wreath shape.
4. Ice cream cone "trees."
This is a craft that even the youngest kids can partake in. Decorate inverted ice cream cones using white frosting as "glue." Any kind of sprinkles or candy decorations can be used to make the "trees" look festive.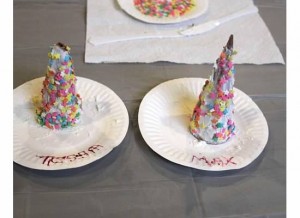 5. Decorate your door.
Your home will look especially inviting to holiday visitors if you dress it up! With ribbon, tape, construction paper and silver garland, you can transform your door into a smiling snowman like this one. Another option – cover your door with wrapping paper and a bow and turn it into a giant gift!
6. Marshmallow snowpeople.
Another easy (and tasty!) craft that even the youngest kids can enjoy. What you need: marshmallows, frosting, mini chocolate chips, red yarn (for the scarf) and red decorating gel (for the mouth).
7. The 25 Books of Christmas.
Cayden and Justin's mom, Dana, is a true Bargain Babe. She went to The Salvation Army and picked up 25 different Christmas books, then had the kids wrap them up in paper. Every night in December they will pick a "present" to open and read.
8. Candy cane candles.
With supplies bought from the dollar store, you can make adorable candy-cane decorated candles like these. What you need: candy canes, flameless candles, bows, mini-erasers in holiday shapes or whatever you'd like to add for embellishment. These make cute gifts, too. (Note: Please supervise children when they are using hot glue guns.)
Want more Christmas craft ideas?