Ever since our girls switched from toddler beds, they have been in the Ikea Kura convertible beds, which we absolutely love. For awhile, they had two set up as lofts, and then we used one as a bunk bed for the two of them while my son got the second bed for himself. Now we are planning to sell one of our Kuras to purchase a more traditional bunk bed, but dealing with the bunk bed bedding mess is unavoidable.  No matter how hard you try . . .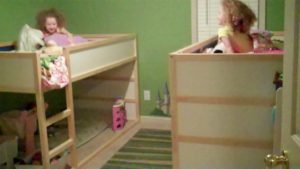 Bunk Bed Bedding gives Mama Nightmares
I didn't have a bunk bed growing up (although my brothers did) so I had no idea what a huge pain it is to deal with bunk bed bedding! Now it has just become part of my daily routine to cringe at the sight of three twin beds that can never stay neat. While bunk beds are a great kid sleep solution, the bedding for said bunk beds is seriously lacking. It made me wonder what was the Marie Kondo response to this quandary? Throw out the bunk beds and make them sleep on the floor?  (Trust me, the look of these beds every morning is NOT sparking joy).
Zipper Solutions for Bunk Bed Woes
Surely someone somewhere had tried to solve this problem, right? I did some heavy-duty googling, youtubing and pinterest-ing and now I want to share the 4 solutions I found. Most of these are designed as a sheet/comforter hybrid that zips up into one neat piece so that the bed can be made quickly and neatly with a pull of the zipper. Most of these options are geared toward bunks, daybeds, or trundle beds, but many are also the perfect solution for kids who just don't like to make up their bed. With the pull of a zipper, they are done!
1) Zip-it Bedding. Zip-it Bedding seems to be the most readily available mainstream solution. You may have even seen it on television infomercials (which may be a strike against the product rather than an endorsement). My children were pretty enraptured with the video showing the kids quickly making their beds.
Pros: Relatively inexpensive, appealing to kids, reversible, easy to wash.
Cons: Limited patterns, questionable customer support.
Reviews: I noticed that by far most of the negative reviews of Zip-its referenced issues with customer service, particularly shipping and returns when buying straight from the company. Now that these items are available from Amazon, I wouldn't hesitate to order knowing my purchase will come with a Prime guarantee.

2) Bunkies by Bunk Beds Bunker
This seems to be a family owned, American based company which is always appealing. Many of their products are also made in the USA! They have a variety of products but specialize in Bunk Bed Bedding. They offer zipper sheet sets and zipper comforters starting at $59.95.
Pros: There are tons of patterns available and 100% cotton zipping sheets!
Cons: Higher price point than Zip-its, not reversible.
3) Beddy's 
I have to admit, this brand has completely bewitched me with it's gorgeous patterns. Although I haven't seen Beddy's in real life, there are a few videos available that illustrate their sturdy zippers and minky interior. Beddy's Bedding, if you want an extensive review, I am the mommy blogger for the job (hint, hint). One of the things I like about these are that they don't look like a sleeping bag, they look like a flawlessly made customized bed.
Pros: beautiful designs, matching accessories and soft minky interior (I think this could possibly be a con as well, since not everyone prefers minky material over a more natural fabric….sounds super cozy to me though!), high quality construction.
Cons: price (a complete bedding set with bedskirt could cost over $300….for a twin set). That's a deal-breaker for many families.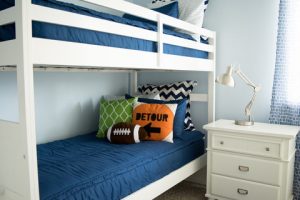 BlanketWarehouse.com has a variety of bedding designed for bunk beds that look like a compromise between traditional bedding and zip-up bedding. The Zippy Bunkbed Hugger is fitted at the bottom for a tailored look, but doesn't include sheets like some of the other products. In my mind, this seems to solve the bunk bed issue by making bunk beds simple to make up. However, I'm not sure it would change a child's habits the way the novelty of the Zip-Its or Beddy's would.
Pros: lower price point (starting at $112), many traditional options.
Cons: Perhaps not as motivating for kids as the one-step products described above.
Zipper Bedding: from $39-$300 per set.
Seeing your child's bed made every day: Priceless
If you are looking for a zipper solution to solve the kid bedding crisis, some of these could be the miracle you have been looking for! If you have another full-proof way to keep your child's bed neat, please share it with me in the comments!