The question "What's for dinner?" is really a fairly benign and innocent query, especially when coming from the child you've fed since they day they were born. However, after a long day of working, or homeschooling, or blogging, or simply non-stop parenting, it can bring on feelings of frustration, dread and denial. When I hear that question, I feel my shoulders start to tense and a rising sense of panic. How is it ALREADY dinner time? How do I NOT have a plan yet?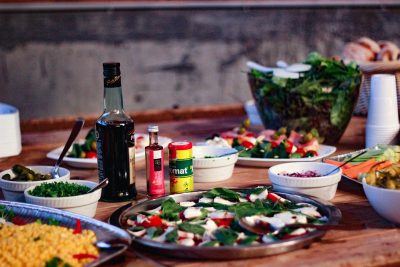 Unless you really love flying by the seat of your pants or actually embrace these last minute dietary crises, you would probably benefit from meal planning. I knew that something had to give with our crazy schedule and I decided to finally find a meal planning solution. After scouring the ENTIRE internet and downloading and deleting at least 5 apps, I came to realize that no method would be truly fool-proof. After all, none of the blogs or pins could magically transport a personal chef into my kitchen at 4 pm to take over the last few hours of my day. I realized it was time to adjust my expectations and really commit. It was time to meal plan like a boss. Here's how I did it: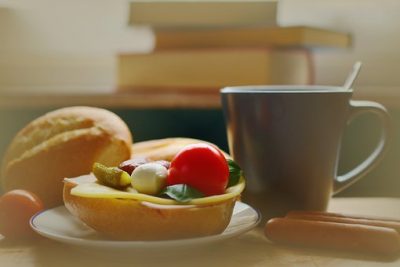 Choose a Day: Part of the hang up was that I just couldn't accept the fact that the meal planning day needed to be Sunday. I kept procrastinating and trying to work out a better solution, but when it came down to it, Sunday was the best fit for our schedule. It turns out the meal planning process was less daunting than I thought and it really doesn't take away from the lazy Sunday afternoons I envisioned. And going to bed on Sunday night with the knowledge that all the meals are planned out for the entire week….well, that feeling is priceless! Pick any day you'd like but keep in mind you'll obviously need to run to the store to fill your list.
Choose a Method: This is obviously going to depend on your lifestyle and needs, but I knew that I needed it to be really simple. As much as I love my iPhone and apps, I find that digital methods tend to overwhelm and frustrate me. Just like I really love the analog version of a planner (my bullet journal); I decided to go with a physical pen to paper method of meal planning. (If you are interested in an App, I would suggest you check out Treehouse Table, Mealboard, or BigOven. All of those have really cool features that I think might work for you!) Keep reading to hear about my chosen method for meal planning. It's cheap, simple, and totally do-able for anyone who is dealing with a tight schedule and brain-clutter!
Make it Fun: This is just me, but sometimes I really have to motivate myself to complete these kinds of tasks. So I've decided to create a little alone-time ritual out of meal planning. I'll treat myself to a cup of coffee and a cookie or two, sit down at the table with classical music on and meal plan as if I enjoy it! Another thing I've started to really love is listening to a Podcast or music while I am grocery shopping. I used to think it was odd when people were shopping with ear buds on, but now I just think it's a clever use of time. I know taking these little steps really elevate my mood and help me feel like the job is less of a burden and more of an enjoyable routine. And that's the whole point here! So do what you need to do to make this something you DON'T dread. Then you can really rock at step 4.
Follow Through: Just like every other great plan, the success is going to be in your ability to follow through. Don't make your goals unattainable (read: don't make a plan of 7 nights worth of 5 course meals). Remember, each week that you successfully meal plan will make the next week a little bit easier. You'll start to automatically take steps to help make your plan a success. You'll find yourself thinking ahead a little better and avoiding the meal-planning pitfalls (like forgetting to pull the meat out of the freezer). You'll become a little more adept at creatively dealing with leftovers and utilizing the same ingredients in different dishes. Planning will become a routine and you'll no longer have to deal with the 5 pm scramble! It will be totally worth it.
 
So what's my new meal planning secret weapon? It's a BIG magnetic erasable fridge menu! I love this thing! Click here for the "chalk" version or click here for the dry erase version. So every week I pull this bad boy down from my fridge, sit at the table and write down my meal plan: I plan for breakfasts, lunches and dinner. There is plenty of space on this menu because it measures 12″ x 16″. I also keep a running grocery list on it so that I can remember the random items we need. (In addition, I can jot down snack ideas so that I am less likely to hand the kids something unhealthy. Right there on the fridge I'm reminded that there are carrots and apple slices to serve them!) In the notes section, I will sometimes remind myself of recipes I'd like to bake if time permits, such as banana bread if I know the bananas will be getting over ripe. Then when I have time I'll throw a batch in the oven.
So the menu works really great, but here's what is making this plan a huge success at the Prescott house. After my menu is complete for the week, I take a photo of it. I then add it to a folder on my phone entitled "Menus". Now I have a record of the meals I served and a well thought out menu plan that can be RECYCLED. That's right, with the date written in the very top space, I can easily see that we haven't eaten this set of meals in 6 weeks, so I can copy and repeat! This makes me even more motivated to stick with the plan, because I'm laying the ground work for convenience in the weeks ahead. I've also considered creating a Pinterest board with my menu photos and their corresponding recipes, but I yet to take it a step further.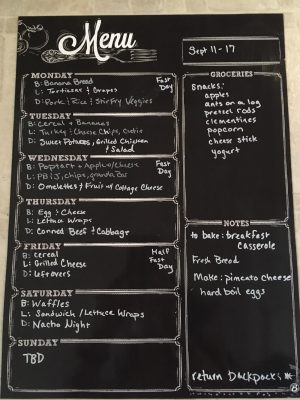 What do you think of my Meal Planning Ideas? Share your meal planning tips with us in the comments!