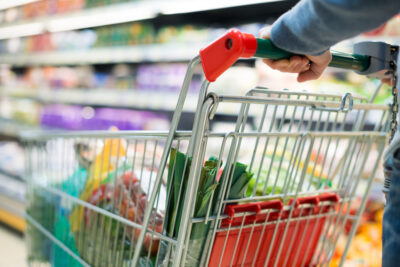 Are you experiencing sticker shock every time you go to the grocery store these days? You are not alone. I do a double take nearly every time I see the total on the cash register. 
Grocery prices in general have risen 6.4% since 2020. Meat, eggs, and fish have seen the highest increases – as much as 24%! And there's no relief in sight. Prices are expected to continue rising for another 12 months or so. 
But that doesn't mean you have to revert to your college diet of beans and ramen. With a few simple strategies, you'll still be able to eat your favorite foods without going over budget.
9 Easy Ways to Save Money on Groceries
Shop Online
I shop online at Target to save money, and I've learned to do the same at grocery stores. If you don't go in store, you have two advantages: first, you aren't making impulse purchases (which add up faster than you think), and second, you see your total before you commit to buying. So you can stop and think about whether you really need that $20 bottle of wine (no) or that $9 artisanal ice cream (obviously yes). 
I started shopping online for store pickup when the world first went into lockdown and I am shocked by how much money we've been saving – an average of $200 a month! No, I did not accidentally add an extra zero there. Plus, it saves time and limits your exposure to a certain virus going around.
Shop Through a Cash Back Site
As long as you're ordering online, make sure you do it through a cash back site. Rakuten, for example, has several grocery stores on its roster, including Kroger, Safeway, Giant, Jewel-Osco, Pavilions, and more. Most offer just 1% back, but it only takes a few seconds to click through the site and every bit counts, right? 
Eat Less Meat
I have a whole post coming on this, but the bottom line is: eating less meat is better for your health, the environment, and your wallet. The same is true for seafood, which can be especially expensive. So embrace Meatless Monday and save a few bucks. 
Buy More Frozen Food
Frozen whole foods – like vegetables and fruit, not processed foods – are almost always more economical than buying fresh. And, counter-intuitively, they can be even more nutritious because they were frozen at the peak of freshness. This is true of frozen meat and seafood as well, which are typically about 30% cheaper than fresh. (If you're still skeptical about frozen foods, buy some frozen broccoli and roast it. You'll be a convert, I promise.)
Meal Plan and Make a List
I don't like meal planning any more than you do, but you don't have to spend hours on it. You will reduce food waste and save money if you make even a half-hearted attempt to meal plan for the week. Then make a list and don't even think about entering the store without it. Shopping without a list is a fast track to overspending. 
Join Your Store's Loyalty Program
I've never been much of a couponer – frankly, I find it really tedious – but I do make sure I use my store loyalty rewards. On my Safeway account right now there are offers for $1 off produce, frozen foods or cereal, as well as $5 off a $30 purchase of organic foods. It also offers personalized prices on items I buy frequently. Those small savings can make a big difference in your total. Make sure you download the app, because often there are unadvertised specials in-store that you can add to your account by scanning with your phone. 
Buy from Bulk Bins
If you have a store that offers bulk bins, take advantage of them! You can save a lot of money in the bulk section, particularly on items like spices, flours, grains and other pantry staples. 
Buying from the bulk bins doesn't necessarily mean buying in huge quantities. On the contrary, one of my favorite things about the bulk section is that I can buy very small amounts, either for a recipe or to try something new. For example, if a recipe calls for a spice I rarely use, I can buy just a teaspoon or two from the bulk bins. No need to spend on a whole bottle that will sit on my shelf and go stale. 
Use a Cash Back Credit Card
You're leaving money on the table if you're shopping without a good cash back credit card. I personally use an American Express Blue Cash Card, which gives back 6% on all grocery purchases up to $6,000 per year. (For the record, this is not a sponsored post, nor is that an affiliate link.)  Nerdwallet has a good rundown of the best credit cards for grocery shopping. 
Stay Out of Trader Joe's
This will be controversial, but I stand by it. I love Trader Joe's as much as the next person (I've even written about how much I love it), but I'm here to tell you the cold, hard truth: Trader Joe's is not saving you money. Yes, I know, some things – particularly specialty items – are quite a bit cheaper at TJ's. But that cozy shopping experience that Trader Joe's has perfected means you are making a lot of impulse purchases. Unless you have the discipline of an Olympic athlete, I guarantee you are spending more than necessary at TJ's. 
Now I'm not suggesting you never go to Trader Joe's – I'm not a monster – but I do recommend limiting your time there. I try to go no more than once a month. I make a list and I stick to it, except for one allowed impulse purchase.
How are you saving money on groceries? Tell us in the comments!