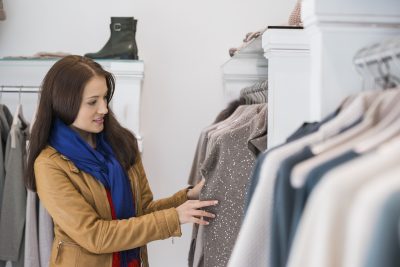 I have talked about my obsession with thrifting before and some of my amazing finds. Even now that I have really slowed down my shopping habits, I still find thrifting is one of my favorite activities. Last week, I kid you not, I was breezing through a resale shop and caught a glimpse of soft comfy boots on the bottom shelf. I had to reach down to see if they were genuine shearling. It turns out they were authentic Ugg boots in my size for only…..$3.50. Whether or not you are a fan of Uggs, you have admit that's a heck of a deal. My old boots were so very worn, I was thrilled to replace them with these comfy grey classics!
But in between my Ugg boots and my $8 Le Creuset Dutch Oven, I have to admit I've had a few duds. After years and years of thrifting here are some of my tips on what to AVOID at thrift stores.
Broken Zippers: Before you snatch up those perfectly worn jeans in your size (made by that brand you could otherwise never afford) be sure to check the pockets and zippers. I've been burned this way a time or two before, so check to make sure all pieces of the zipper are intact and functioning. Here are some tips to repair broken zippers, but be sure you are willing to take the risk before laying down your cash!
Anything that smells like smoke: Put anything you are going to buy up to your nose before purchasing! I used to feel awkward doing this, but we have asthma and allergies, so I've just gotten used to it. I know folks have some great tips for removing the smoke smell from textiles but I'd prefer to avoid anything questionable, odor-wise. Stores often douse everything in Febreeze so the scent may not be immediately noticeable.
Mismatched Sets: I recently snatched up a pair of 100% cotton pajamas for my son only to come home and realize that, although the top was a size 6, the bottoms were a size 2. Thrift stores process and price items very quickly so you can't always count on them to have put the right pieces together. (one the other hand, I have often found matching pieces of a set on opposite sides of a rack….so it's always worth continuing the hunt if it's a brand you really love).
Recalled Items: Because of the sheer volume of donations, most thrift stores cannot keep up with which products have been recalled, so it's important to be a responsible consumer when buying used (particularly for baby products which tend to suffer many recalls). Here's a resource to search for recalled items. One of the big reasons I wanted a smart phone was so that I could google products before I buy them second-hand!
Carseats: On a similar note, I have to advise everyone of the one item that I would never, ever buy used and that is a carseat for my baby or child. Carseats can be rendered ineffective if they are cared for improperly or if they are involved in any kind of wreck. A child's safety is of the utmost value, so please avoid seats from unknown sources.
Counterfeit Items: Counterfeit brands have become so much more commonplace that they are popping up at thrift stores more regularly. Here are some tips for avoiding counterfeit items while shopping.  It can be tricky to spot a fake so I ask myself this question: Does this item look, feel, and smell like the real thing? Will I enjoy using it and be proud to own it? If so, then I may buy it, but if I have any hesitation I pass.
Outlet Versions of your Favorite Brands: Just keep in mind that some outlet stores carry first quality, but some actually produce a lesser quality line for distribution directly at their outlet stores. This is important when you are shopping second-hand because you might love Ann Taylor blouses, but you might actually be holding an Ann Taylor Loft Outlet blouse which could be a very different product.
Have you ever been "burned" by a bargain? I'd love to hear what items you always avoid when buying second hand!