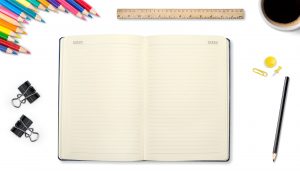 I have always had a secret wish to be some kind of organizational genius. I remember when I first got a school planner in high school. I carefully recorded everything in it diligently….for the first week or so. Then I went right back to flying by the seat of my pants and hoping everything got done in the end. And so it has been ever since. I drool over temptingly beautiful organizers, planners and calendars, but no matter which one I bring home, they all end up mostly empty and shoved under a pile of unredeemed coupons in a kitchen drawer.
All of that changed when I stumbled across the idea of Bullet Journaling. There has been a lot of buzz lately about this organization method. But what exactly is a bullet journal and how can you start using one yourself?
Here are 5 easy steps to organization nirvana using a Bullet Journal.
Grab a Notebook and a pen. That's all you need to begin!
An Index on your very first page will create the backbone for your Bullet Journal. Like a table of contents, the index will let you find every piece of information quickly. As you add pages you will always add them to the Index. For example:page 1….Index page 2….September 2016 page 3….Logo Design Ideas page 4….Wish List and so on.
Collections are lists or groups of info in the Bullet Journal. A collection can be anything at all as long as you record it in your index! In the above example pages 2-4 are all collections. This is where your bullet journal can really meet your needs and be anything you want it to be: sketchbook, diary, planner, prayer journal. Flip to a fresh page and write whatever you want. As long as it is recorded in the index, you're good to go!
Rapid Logging is the key to taking your lists to the next level. Each page will have a title and page number (corresponding to the index) and then can be further categorized using symbols to signify task, event, or note. Later items can be migrated to other lists or collections so they do not fall through the cracks. So when you create next month's calendar, you will look back on tasks that haven't been completed. If they are still relevant, you will migrate them to a new page.
Customize to your heart's content. The heart of a bullet journal is very simple, but it can be further personalized in a ton of different ways. My bullet journal is incredibly basic, but it has really helped me stay sane and (semi) organized over the last nine months or so. Check out some of these websites and boards for brilliant variations and ideas:
Will you accept the Bullet Journal challenge and create your own solution that perfectly meets your needs? Let me know how you feel about the Bullet Journal in the comments!