My Dad is one of those people that is really hard to buy for. On holidays my siblings and I always struggle to decide what will be the best gift. Often, we decide that sentimental gifts are better. I've been searching for gift ideas that will surprise him and here are a few that I love. These ideas are also a great way to get younger children involved in the Father's Day fun!
Frugal DIY Father's Day Gifts
1. Happy Father's Day Envelope Surprise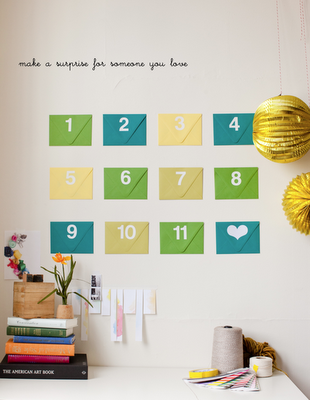 includes something special for Dad every day.
2. Dad Libs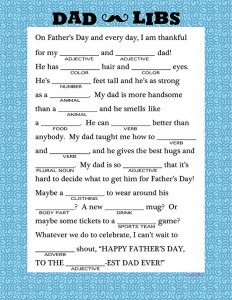 Do your kids love Mad Libs? Then they'll love doing these "Dad Libs"  together from Five Heart Home. Perfect for those funny dads!
3. "We love you because" Father's Day Photo Collage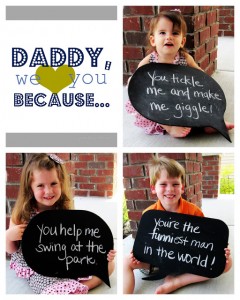 Tell Dad why you love him with this Father's Day photo collage. This includes free printables and instructions so you can make this great gift at home!
4. Make gifts in jars
Check out this list of 15 gifts in jars for Father's Day that includes a Father's Day Memory Jar, Miniature Golf Date in Jar, and many more. These gifts offer twists on regular gifts AND are inexpensive!
5. DIY Grilling Prep Plates
This is a gift that Dad will definitely use! These DIY grilling prep plates are easy to make and will remind Dad how much you love them whenever he's out at the grill!
6. Father's Day Coffee Mug
This is the perfect last minute gift for younger children (with help from Mom of course!). Find the full tutorial for these Father's Day Coffee Mugs here.
A few more fun and easy ideas (especially for kids!)
Make homemade pizzas together
Go the batting cages together
Make a homemade card..this is perfect for younger children! This Superhero Father's Day card is sure to be a hit
Set up a photo booth at home and make a scrapbook full of funny pictures
Make Dad breakfast in bed
Plant a garden together
Buy his favorite snacks from the dollar store
Bake your Dad's favorite sweets
Go on a hike together
Write a down your favorite memories of your Dad on slips of paper and put them in a mason jar
But most importantly….
Spend time with Dad. No phone. No TV. No interruptions. Just spend time talking and laughing to show him how much you enjoy spending time with him! Sometimes spending time together is really the best gift of all.