Are you the one who can't wait to clean up the holiday décor on December 26th ……or do you savor those last bits of Christmas until the final days of January? Sometimes it takes forever to sweep up those last scraps of tinsel, pine needles and snippets of wrapping paper. If you are like me, you might continually be finding ornament hooks around the house for weeks to come (one January evening, I kid you not, I found one of those pesky hooks tangled in my daughter's hair while I was kissing her goodnight). No matter where you stand on holiday decor, chances are you are ready to declutter and put away. If you need a little motivation, just imagine your holidays next year being relaxed, tidy, and clutter-free after just a little work on the front-end. Let's get right down to business with a comprehensive post-holiday declutter guide!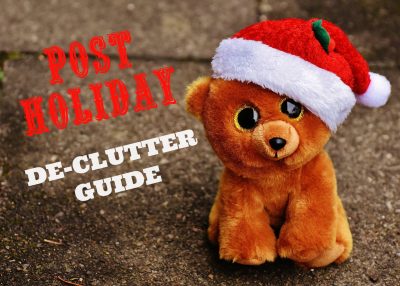 Streamline your collection: This is the perfect time of year to simply decide what needs to go. Is your front-door wreath getting shabby? Maybe there are too many bulbs burned out in those twinkle lights?  And how many holiday mugs does one home really need? In my case, I decided I didn't need serving dishes that were holiday themed. Instead, my winter white Corelle platters will work for any occasion. As far as ornaments go,  it doesn't really make sense to display any that aren't both beautiful and meaningful to you, so I donated several dozen ornaments. And I don't want to offend anyone, but just because it was homemade does not mean you must keep it year after year. Enjoy your holiday handprint artwork, then discard it without guilt.
Switch your Storage: Until this year, we stored a lot of our holiday items in cardboard boxes, but I began to realize how badly they deteriorate and collect dust. Now that my daughter has been diagnosed as highly allergic to dust, I need to be more careful to choose storage methods that combat those pesky mites. I love my zip-up ornament storage boxes and can't believe how much less space they occupy than old diaper boxes taped and re-taped each year. Check out this box that holds 64 ornaments. While you are at it, pick up a bag for your wreath to protect it all year long. You can find other great holiday storage items on Amazon.
Simplify Gift Wrap: If you are frustrated with the clutter and cost associated with gift-wrapping, consider completely overhauling the whole gift process. Rather than having many rolls of wrapping paper for every possible occasion, why not switch to solid, generic gift wrap using brown kraft paper, solid gift bags and chic burlap ribbon? This combo is cost-effective and appropriate for any gifting opportunity regardless of holiday or recipient. If you are ready for an even bigger eco-friendly change, choose to go paper-free for all gifts in the future and wrap in gorgeous fabric instead. One last option is reusable cloth gift bags that can be pulled out year after year.
Set the Scene for Next Year: If you are hoping to simplify the holidays of the future, this is the perfect time to set that plan in to motion. Perhaps that means to contact relatives and suggest name drawing for next year. Or maybe it just means setting your budget ahead of time and planning to downgrade the costs. You might even consider putting a family trip on the books for next December rather than choosing to host dozens of relatives in your home. Whatever you decide to do, planning in January will take some of the stress off for next year and guarantees a more enjoyable holiday season for your family. In looking forward to the 2017 Holiday Season, I will be using Joshua Becker's Simple Christmas Links to prepare for a more peaceful celebration.
Say Goodbye to Holiday Cards: I wanted to leave you with one last idea that I really enjoyed from my childhood when it comes time to discard Holiday cards. My family would display our cards all season and then at dinner time each evening in January we would choose one card from the stack. We would then specifically pray for the family that sent us the card as we blessed our meal. Another fun idea is to send a quick Facebook message, email, or text to one person per day until all the cards have been recycled. I think it's such a nice idea of starting the year off by thinking of others and enjoying those beautiful greetings one last time.
This post contains affiliate links.