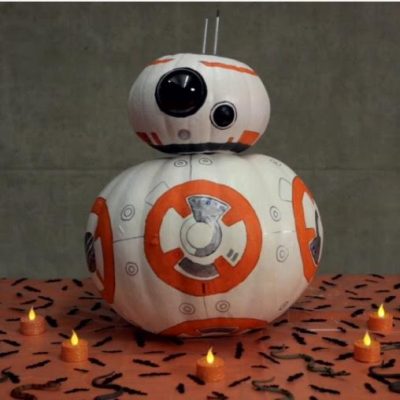 Why go for the same old carved jack-o-lantern when you can do something really creative? Whether you choose to paint your pumpkins or carve them, it's always fun to do something different.
Here are 6 DIY Pumpkin Decorating Ideas.
1. BB-8 pumpkin. Do you have a Star Wars fan in your household? You won't have to "Force" them to love this adorable BB-8 pumpkin. What you need: 2 pumpkins (large and small), pumpkin carving kit, painter's tape (large, medium, and small rolls), paint brush, fine grain sand paper, acrylic paints: black, white and orange, paint pen, rhinestones, small round object (ex. a styrofoam craft glitter ball, painted black), large round object (ex. half of a clear plastic ornament found at a craft store, 2 plastic coffee stirring straws. For complete instructions, see the Disney Family website.
2. Emoji pumpkins. My daughter can't wait to make these this year. We opted for the smaller pumpkins because there are so many emojis we want to make! Unlike the pumpkins in this photo, we are opting to paint not carve (the pumpkins will last longer) and to paint the entire pumpkin yellow, not just the front. These are so fun, your kids will be looking at them with "heart eyes." LOL. For instructions, see Popsugar.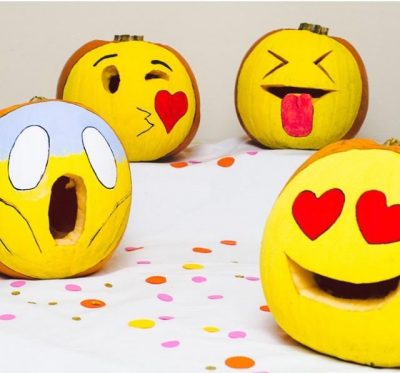 3. Mini donut pumpkins. These painted pumpkins are the cutest conversation pieces. And unlike real donuts, there's no frightening calorie count! Just use acrylic paint (on sale now at Michael's for $.50 a bottle)! Idea from Studio DIY.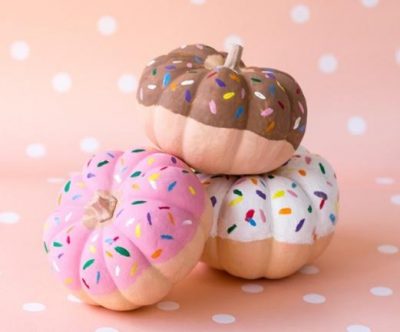 4. Despicable Me pumpkins. There's nothing despicable about these Gru and minions pumpkins which were found on reddit. What you need: pumpkins, acrylic paint, a beret and jar lids for the glasses. Put these together and you'll have your kids saying "BEE DO BEE DO BEE DO" with excitement!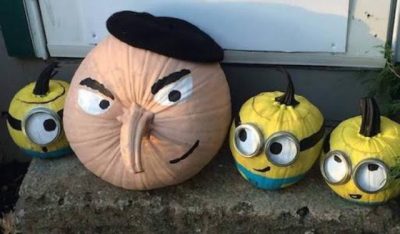 5. Nemo pumpkin. Don't you "fish" you made this? Well, you can! This idea, found on Kitchen Fun With My Three Sons is easy and "fin" for the kids to help make.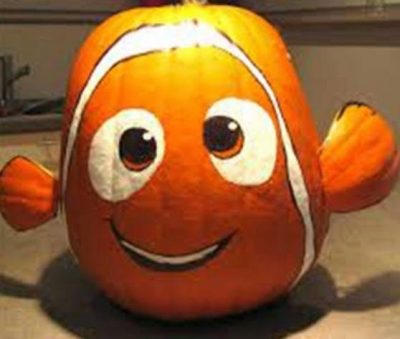 6. Bubblegum Machine pumpkin.  Life With a Cherry on Top shares the secret to making this decorated pumpkin: "Using craft paint, paint the entire pumpkin gray. This seems silly, but it masks all the crevices in between the gumballs that would otherwise be pumpkin-colored… After the pumpkin is completely dry, paint gumball-sized black circles all over it… then fill them in with color… The base is a medium size terra cotta flower pot that I spray painted red and added details to (like a knob and dispenser). The top is the base of the terra-cotta flower pot… with a little bottle cap that I spray painted red to the top to cover up the little hole. "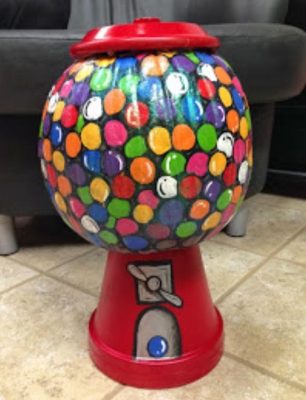 Are you decorating pumpkins this year?

This post contains affiliate links.