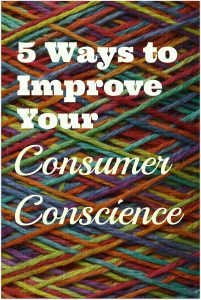 Have you ever felt so overwhelmed by the truth that you tried to push it to the back of your mind rather than face it? That's how I felt when I began to learn more about fair trade products and ethically sourced goods. As a consumer (and in fact, a shopaholic), I felt paralyzed about the magnitude of the problem. It's very sobering to think that your money is going to support unsafe and even cruel working conditions. So I ignored the snippets of info I heard here and there about consumer conscience because the problem seemed so very big.
This year, I have had a bit of a shift in my thinking. Maybe it was when I first read Marie Kondo's The Life Changing Magic of Tidying Up. Maybe it was when I started following www.un-fancy.com. Or perhaps the shift happened when I decided to boycott a store because of their business practices. I started to recognize the power I have as a consumer and a shopper, and I realized that I want to use that power wisely.

With a little reading, I have learned that the definitions of fair trade and ethically sourced are a bit fuzzy. There are so many factors that go into production of goods and services that it's hard to agree upon reasonable standards. Most of us can agree that we would like to support businesses that are fair to their employees and take care of the environment. I would certainly like to become a more thoughtful consumer, so I started doing a little research. Here are five ways to improve your "consumer conscience":
Shop with restraint. I'm listing this first because this is one I really need to personally embrace. Taking impulse buys out of the shopping equation immediately lessens the demand on the market. Waiting before you buy allows you the time to re-consider, research alternatives or even pass up the purchase altogether. Simply shopping less is the first step towards consumer kindness.
Shop second hand. A wonderfully easy and affordable way of shopping with kindness is shopping thrift stores, consignment stores or yard sales whenever possible. This is truly sustainable living, because you keep items out of the landfill.
Shop better. Getting to the heart of the matter, here are some resources for finding fair trade goods: www.thegoodtrade.com, www.fairtradeusa.org/what-is-fair-trade, www.frontiercoop.com/, www.usalovelist.com/kids-clothes-childrens-clothing-made-in-usa/
Shop locally. This probably goes without saying but buying locally or just buying products made in America is always a step in the right direction. Just because a product has been made in America doesn't guarantee all aspects of it are ethically produced. But it is definitely the best step in the right direction and sends companies the message that you want change to happen.
Shop smarter. Assuming you don't have unlimited resources, you may find some of the ethically sourced and fair trade companies to be out of budget. However, if you really feel it's important to send the message of kindness as a consumer, try combining steps 2 & 3. For example, if you plan to purchase five new t-shirts for summer, try getting two at the thrift store and two at elegantees.com (I love the styles they offer). You might just realize you didn't need the fifth after all.
So that's a bit of an introduction to the idea of shopping fair trade, sustainable, and ethically sourced goods. This is something I am just beginning to explore and I would love to hear any suggestions you have on this topic! Please comment if you have a great source for fair trade products!