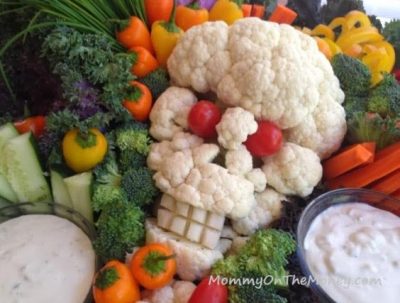 When you think of Halloween, candy probably comes to mind. Candy corn, fun size bags of chocolates, and enough Smarties and Laffy Taffy to make your teeth rot. We're here to help counteract all that sugar with some healthy Halloween recipes that are easy to make and economical, too.
Here are some fun treats to scare up.
1. Cauliflower Skull Veggie Platter. We love this idea from Mommy on the Money. After fashioning the cauliflower skull, add your favorite dips and assorted veggies. Adults and kids alike will be tricked into eating healthy!
2. Babybel Cheese Eyeballs. All eyes will be on this snack when you place it in front of your little ones. These are an easy, no-cook recipe. What you need:Mini Babybel cheese, black olives, and red gel food coloring applied with a toothpick. For added creepiness, you can fill the center of each "eyeball" with ketchup. Idea from Kids Kubby.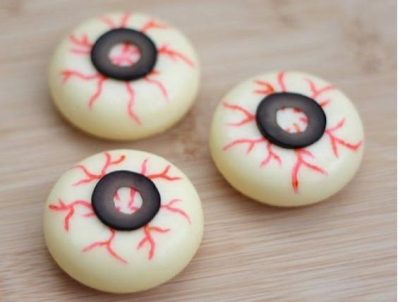 3. Tangerine Pumpkins. Another quick and easy no-bake snack that your kids can make themselves. This idea, from Bren Did, is clever in its simplicity. Says Bren, "My kids call them Orange Pumpkins and then chuckle because all pumpkins are orange (kid jokes, gotta love 'em!)." All you need: tangerines (or clementines or mandarin oranges) and celery.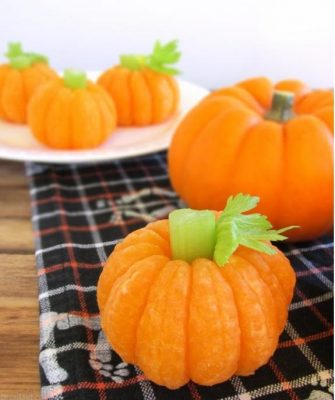 4. Veggie Skeleton. Make no bones about it, this is one healthy snack plate that's sure to get your kids' attention! Feeding Four Little Monkeys shares this idea and says, "Because kids like the idea of eating this helpless guy's "bones" (ewww!?), they just may eat more veggies than usual. A healthy snack with entertainment value. A keeper!"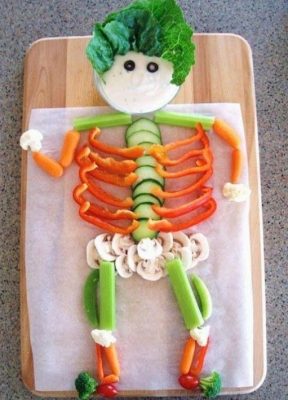 5. Apple Mummies. These easy-to-make treats are spooktacular! Two Healthy Kitchen's blogger came up with them by accident while watching her son haphazardly peel an apple. Mini chocolate chips or dried blueberries can be used for the eyes. See her blog for suggestions on how to keep your apples from turning brown (which is really scary).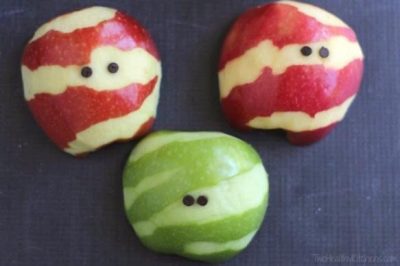 6. Puking Monster Melon. Gross our your kids (in a good way!) with this barfing fruit centerpiece from Listotic. Cucumber slices and blueberries can be used for the eyes… or "eye" if you prefer a cyclops creature.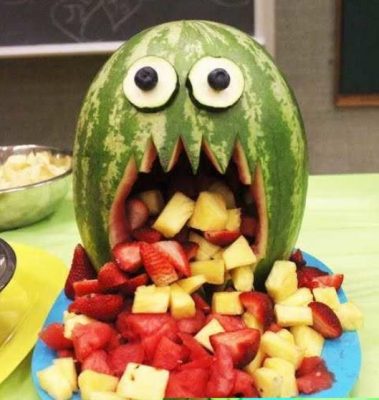 What is your favorite healthy Halloween recipe?