Right now, my hand-carved pumpkins are looking a bit pedestrian. Which is a nice way of saying pathetic. That's because last night, I took my family to see The Rise of the Jack o' Lanterns, an amazing outdoor exhibit featuring 500 hand-carved pumpkins. Professional artists and sculptors, such as Jon Neill, star of Halloween Wars on The Food Network, have taken pumpkin-carving to a whole other level.
How is it done? Some pumpkins are carved deeply, some just barely etched on the surface. And others are carved all the way through with a light shining out from inside. Different techniques for different pumpkins, all spectacular.
You won't believe these pumpkin carvings!
For an idea how's it done, take a look at this Robin William pumpkin. The first photo shows how it looks in the night. The second photo, taken with a flash, exposes the artist's handiwork. You can see how the flesh was barely scraped away.
Here are some more of the pumpkins that were featured:
Celebrity Pumpkins – these are carved!!!
Yeah, we didn't think the Kardashian Klan belonged there, either…
And what would Halloween be without:
Creepy Dismembered Heads!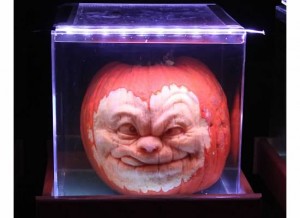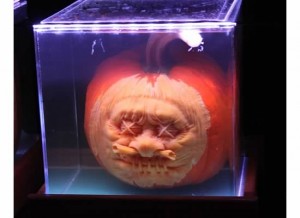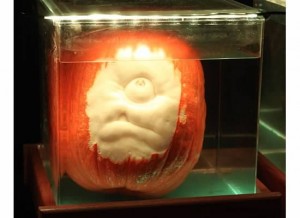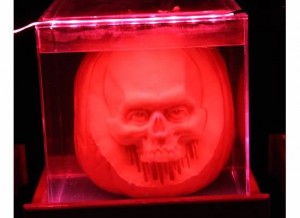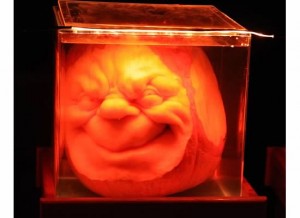 Master Carver Jon Neill demonstrated his jack o' lantern sculpting skills to the crowd last night. It was truly fascinating to watch him transform an ordinary pumpkin into a…being. Jon said he looks to the pumpkin to reveal its "face" to him.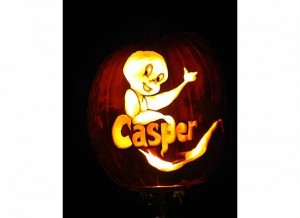 Okay, we're impressed – but what about pumpkins a mere mortal could carve?
Here's a secret – not all the pumpkins at The Rise of the Jack o' Lanterns were works of art. Take a look at these humble pumpkins anyone could carve. But when you light them up, look at the difference! Now that's impressive!
What pumpkin is your favorite?