Christmas is a time to be jolly, merry… and creative! Instead of decorating your tree the same old way, why not go for something new? Wow your guests with a tree that's sure to be a conversation starter. So put on your ugly Christmas sweater, roll up your sleeves, take a swig of hot cocoa and get to work decorating your tree in a new way.
10 Christmas tree decorating ideas to catch Santa by surprise.
1. Star Wars Christmas tree. You can find this Darth Vader tree topper (which is really just a mask) on eBay for $47.95 – OR – better yet, buy a similar mask from Party City for $4.99. And Target sells a variety of Star Wars-themed Christmas ornaments. May the force be with you – and your tree – this holiday season!
2. Cat-themed Christmas tree. You'll be feline the holiday spirit with this stunning, handmade kitty tree topper available from Etsy seller ScreenDoorGrilles for $32.00. They also sell beautiful dog tree toppers as well. Decorate with kitty crinkle balls or holiday ornaments filled with cat toys from PetSmart.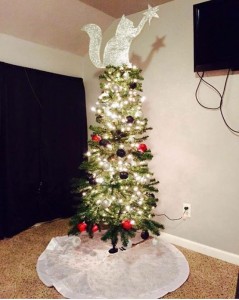 3. Santa tree. Ho! Ho! Ho! This is one merry tree! What you need: red tulle – or better yet, red glitter tulle – from Michael's, white feather boas (I have found these at the dollar store) and a belt fashioned from thick black ribbon and a buckle which can be made from cardboard or felt. Decorate with red ornaments.
4. Felt baby tree. Let your baby get in on the tree decorating – safely – with this clever felt tree that can provide hours of amusement. "It isn't an eyesore, doesn't drop needles or induce hay fever and it packs flat!" See cheriebobbins.com for instructions.
5. Beach-themed Christmas tree. For those who love the seaside, why not top your tree with a starfish? Visit Glitter 'N' Spice for ideas on how you can create ornaments that will "bring the beach to your home this holiday season, whether you are celebrating seaside or just daydreaming of sea breezes and warm sunshine while you are buried under 10 feet of snow."
6. Snowman Christmas tree. Have a white Christmas with this snowman tree. Michael's sells a 3-foot table-top white tree for $24.99. Add a scarf or wide ribbon, black pompoms in varying sizes for buttons, eyes and mouth. Tree branches can be used to make arms and boots or ice skates can be added at the bottom for a whimsical touch. Top with a hat and you're good to go.
7. Toddler tree. Another felt tree – this one for toddlers who can stand, run and get into all those boxes of breakable ornaments. Keep them busy with this creative wall decoration which can be decorated again and again. Instructions at Pepper Design Blog.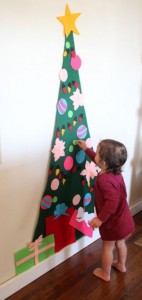 8. Christmas tree hair. Who says a Christmas tree has to be displayed in your living room – and not on top of your head? Be the talk of the party with this crazy hairdo from paintthemoon.net. What you need: a large plastic cup (like a red Solo cup), green construction paper, Scotch tape, hairbrush and comb, hairspray, green temporary color hairspray, glitter hairspray, bobby pins and hair ties, mini tree ornaments, garland and a tree topper.
9. Stay Puft Marshmallow Man tree. Why? Why not?! This silly idea is from a creative dad at biglittlekid.net. Visit his site for complete instructions.
10. Christmas tree stairs. All you need is shelf liner! It's rated at a beginner skill level so it's pretty much foolproof. From A Cultivated Nest. 
How are you decorating your tree this year?