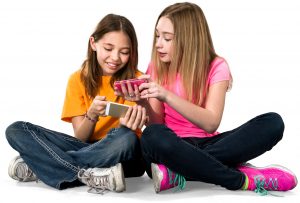 Our kids have never known a life without cell phones. It seems everyone has one, and kids are getting them at younger and younger ages. While being able to keep in touch with your kids is invaluable, there are drawbacks as well. Smartphones, their monthly fees and many accessories are expensive. And by giving your child a phone, you're not just giving them a way to communicate by phone or text – you're opening up the entire world to them, via the Internet. So, should you get your child a phone?
We weigh the pros and cons.
Pro: It's always good to know where your kids are. Being able to keep in touch with your kids has never been easier. It's important to know where they are, who they are with, when to pick them up, etc.
Con: They don't always pick up the phone or answer texts. Don't expect an answer to any of the above questions: "Where are you? Who are you with? When do you need me to pick you up?" (At least not promptly.)
Pro: Cell phones are a great way to socialize. Together, kids play games, text each other and send each other photos. My kids keep in touch with long-distance friends and family via Snapchat, Instagram and FaceTiming. It's a great way to keep in contact between visits.
Con: Cell phones are a great way to isolate. I know plenty of kids, including my son, who can watch YouTube videos for hours rather than hang with friends.
Pro: You can keep in touch with your kids during sleepovers and other away-from-home excursions. When my daughter went on her first sleepover, she was a little nervous. She FaceTimed me from her friend's house (next door) where she gave me a tour of her friend's bedroom, let me watch her brush her teeth before bed, and sing to her as she got under the covers. This rite of passage was made a little easier for the both of us thanks to the smart phone.
Con: Unless (and even if!) you give your child a charger, they may forget to plug the phone in and it will die. Leaving you to wonder how the sleepover is going and why you can't get ahold of them.
Pro: Cell phones are a great way to teach responsibility. Phone time may be given as a reward for good behavior, homework done, thank you notes written, etc.
Con: Your kids might not be that responsible. My daughter accidentally dropped her phone in the pool. That's right, the pool. And no amount of soaking it in rice could revive it. Although we had insurance on the phone, my husband and I elected not to get her a new one since she had clearly demonstrated that she was not responsible enough to care for it.
Pro: Kids can do really creative things with their phones. My son has his own YouTube vlog and my daughter likes to make musical.ly videos. They have learned to edit their videos and add music and special effects, all on their own.
Con: Not every phone will meet their needs. Back when the colorful iPhoneCs were on sale for a dollar (!), I bought both of my kids one of these smartphones. The problem, however, is that their storage capabilities are very small. The number of apps one can download is very limited and the kids are constantly having to delete videos and photos in an attempt to make room for new projects, to their dismay.
Con: Older kids may tap into inappropriate content. Or younger ones, for that matter.
Pro: This is a great opportunity for "teachable moments."  You can't shield your kids from everything, but you can teach them that just because a certain adult YouTuber swears, that doesn't mean they need to. Or that keeping your Instagram account private is important for safety; never "friend" someone you don't know. Worried? A friend of mine strongly recommends the Internet Accountability Filtering system Covenant Eyes which tells you exactly what your kids are up to.
Do your kids have cell phones?