Ugly Christmas sweaters and Ugly Christmas parties are THE thing right now. And the more hideous, tacky and downright gagworthy the better! You don't have to spend a fortune to look spectacularly bad. We searched the Internet for the most cringeworthy holiday sweaters, tees and tunics that will be sure to turn heads – and stomachs – this season.
10 Ugly Christmas Sweaters for Your Wish List.
1. Men's fireplace sweater (above). Comes with 4 Motion Sensor LED Lights Built Into Fabric so you won't just feel all a-glow, you'll actually be glowing. Genuine acrylic. From eBay. $28.99.
2. Christmas present tunic. This would make a great present for the person who enjoys re-gifting! From JC Penney. $22.99.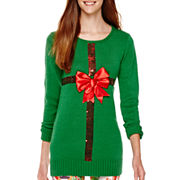 3. Redneck sweater. Technically, this is more of a costume than a sweater, but either way, it's a class act. (Um, not.) From Walmart. $29.10.
4. Bite me gingerbread man sweater. The image looks printed, for that extra-cheapy look – and we mean that in a good way. From Kohl's. $13.99.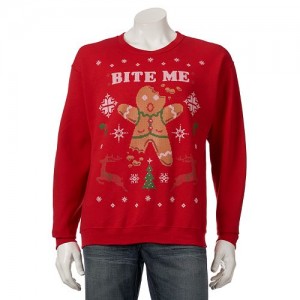 5. Fruit cake sweater. This model looks so proud to be wearing this sweater. And who wouldn't be? It's fabulous. From Walmart. $39.99.
6. Ugly men's Christmas tee. This festive sweater vest and button-down shirt are actually just one ugly t-shirt. You're welcome. From Modcloth. $29.99.
7. Ugly Hanukkah sweater. Because you don't have to celebrate Christmas to get in on the ugly sweater trend. Festooned with dreidels and Jewish stars. From Jet. $19.52.
8. Small pet sweater. Humans shouldn't be the only ones allowed to embarrass themselves this holiday season. Now your pet can celebrate, too, with All Living Things' PetHoliday Ugly Sweater Costume. $7.19 from PetSmart.
9. Birthday boy sweater. Show others the true meaning of Christmas with this sweater that remembers the reason for the season. $16.99 from friends-tshirts on eBay.
10. Ugly sweater kit. Be an original – make your own! Sold in two different colors – red and green. From Target. $17.50.
And to get you in the mood, please enjoy this ugly sweater song: 
Are you going to an ugly sweater party this holiday season?