At just 23 I began thinking about saving for retirement. Many people think that saving for retirement should begin once you're too old to enjoy things "comfortable," which really means once you won't have to make any sacrifices. This mindset might be why the average American retires with just $129,000 at age 65! While $129,000 may seem like a lot of money, after inflation, it is nowhere near enough, considering healthcare and home care costs that might become necessary. So, how can you save more without earning more? Money Looms' retirement calculator has an intriguing answer.
Save more for retirement — without earning more
The concept is simple: you save more for retirement by spending less. Okay, okay, this may seem obvious BUT what makes this calculator so interesting it shows exactly how much you'll earn by cutting down on specific lifestyle expenses.
You have to remember that cutting back doesn't just save you money, it also helps you begin to earn more! The cutbacks you make can be invested and grow as you approach retirement. The longer your money has to grow, the bigger it gets! The Money Looms' interactive retirement calculator shows you exactly how much of an impact cutting back on your lifestyle expenses will have on your future.
I tried it out with my own expenses (yes I really do spend that much on pizza!) and was shocked at the results.
My Results: $460,118 Saved!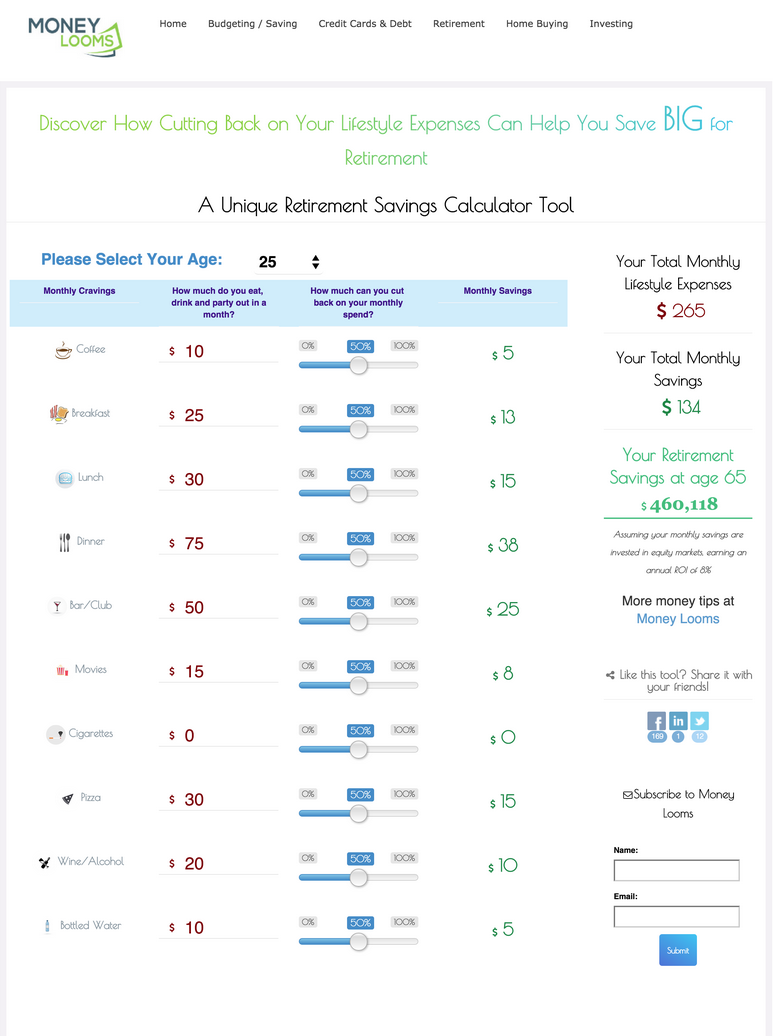 If I cut down just 50% on these "fun" expenses I could have almost half a million dollars saved by age 65, This is almost four times the average savings. Wow! Considering I'm more frugal than many of my friends (I know that seems hard to believe) I can just imagine how much they would save by cutting back.
I also played around with only cutting down one expense. So, say I ONLY cut down on my coffee habit. Would this really make an impact? I would only save $5 a week BUT this would result in  an extra $17,169 of savings once invested. Wow! Small changes can bring about powerful results, provided you give it time.
How much do you plan on saving for retirement?